American Restaurants: the Catastrophe of the Second Wave, City by City
American Restaurants: the Catastrophe of the Second Wave, City by City
Running a restaurant is tough even during the Good Times. But the strain put on restaurants now was beyond imagination not long ago.
By Wolf Richter for WOLF STREET.
The number of "seated diners," a daily measure with which OpenTable tracks walk-ins and diners with reservations, in the week through January 20 in the US was down on average by 57% from the same period last year. But it was up from the multi-month low of -67% just before the Christmas holidays.
The calendar shifts in 2020 of Labor Day, Thanksgiving, Christmas Day, and New Year's Eve – holidays in 2020 were matched with regular weekdays in 2019 – make for some peculiar year-over-year comparisons around those holidays, as the spikes and troughs show. The "-100%" in April indicates that there were essentially no seated diners due to the lockdowns. And this has been showing up again in some cities that we'll get to in a moment: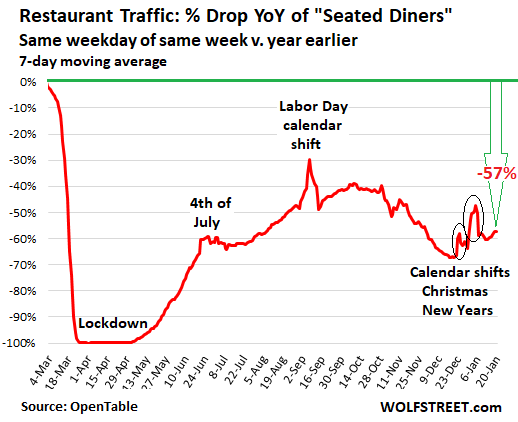 Whatever this phase of the Pandemic may be – I heard on the radio this morning that it's "the end of the beginning" – it has been a catastrophe for restaurants. Many are already gone, along with their jobs and rent payments. Indoor dining has been shut down in many areas.
Even outdoor dining has been shut down in some areas, after a restaurant survival strategy, the indoorification of outdoor dining, became standard practice, where plastic buildings with heaters appeared on the sidewalk that were in essence like indoor dining rooms with the windows open. This is in San Francisco, an illuminated span of the Bay Bridge in the background. The arrangement is now closed: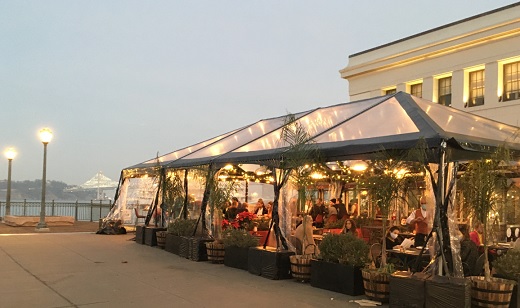 Cities in the West and Hawaii:
Hawaii had locked down in September when the number of seated diners plunged by 100% to about zero and then gingerly reopened its restaurant industry with many restrictions. But the tourism business has collapsed, and so the number of seated diners in the latest week in Honolulu was down 72% from a year ago.
As catastrophic as this sounds, this was far better than the cities on the US West Coast, where the number of seated diners collapsed between 90% in Seattle and Portland and 100% in San Francisco and Los Angeles, with even outdoor dining being closed: