This Spike of New Businesses is a Doozie, on Several Levels
This Spike of New Businesses is a Doozie, on Several Levels
People are massively striking out on their own. But new businesses with planned wages have been getting scarcer since 2007.
By Wolf Richter for WOLF STREET.
Early on in the Pandemic, as 30 million people lost their jobs and gigs, the number of new businesses exploded higher, perhaps fed by stimulus money and the extra $600-a-week in unemployment benefits that allowed people to strike out and go after their dreams, or fed by desperation, or fed by new opportunities that arose and that some people saw and grabbed.
Starting in late May, according to the Census Bureau, weekly business applications began to surge, and in the week ended July 18, at 123,000, were up 91% from the same week last year. They have now tapered off but continue to run at a hot pace. In the week through November 21, which the Census Bureau released on Wednesday, business applications, at 83,740 were still 33% higher than in the same week last year (chart shows the three-month moving average of weekly business applications):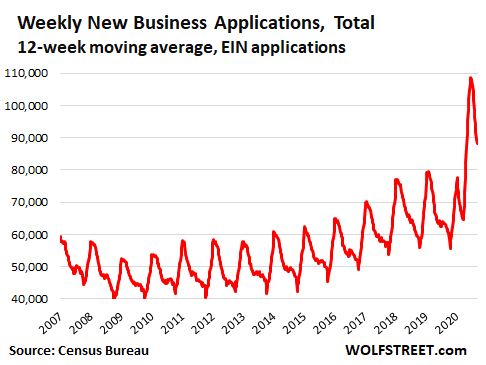 Since the end of May, there have been 2.48 million new business applications, up 52% from the same period last year.
The Census Bureau's weekly data on "business formations" is not survey-based. It's based on applications by new business entities for a federal "Employer Identification Number" (EIN), the taxpayer identification number by which the IRS tracks businesses for tax purposes. When I started my Wolf Street media mogul empire, I first set up a corporation, then the corporation applied for an EIN (my bank did that), and a few minutes later, using the new EIN, the bank set up a bank account for the corporation.
The Census excludes from these weekly EIN applications those that are not related to typical business formations, such as EIN applications "for tax liens, estates, trusts, or certain financial filings, applications with no state-county geocodes, applications from certain agricultural, public entities, and applications in certain industries (e.g. private households, civic and social organizations)." What's left becomes the data for business formations, as depicted in the chart above.