The State of the American Consumer: Free Pandemic-Money Runs Low
The State of the American Consumer: Free Pandemic-Money Runs Low
Stimulus & extra UI dried up. But 16% of "proprietors' income" in October was PPP money & Pandemic farm aid.
By Wolf Richter for WOLF STREET.
Consumers are running low on artificial steam – meaning stimulus money, extra unemployment benefits, money from rents-not-paid and from mortgage-payments-not-made, though they still get a lot of money from cash-out mortgage refis at historically low interest rates. And consumers are still spending record amounts on durable goods, a lot of them imported, but cut back on nondurable goods. And spending on services – plane tickets, hotels, healthcare, rent, etc. – are still deep in the hole.
Personal income.
Personal income from all sources in October ticked down 0.7% from September, to a seasonally adjusted annual rate of $19.7 trillion, according to the Bureau of Economic Analysis today. It was down 6.9% from its fabulous stimulus-and-unemployment-money-induced spike in April. But it's still up 5.5% from a year ago, which makes this, during the Pandemic when over 20 million people are still claiming state or federal unemployment benefits, the Weirdest Economy Ever: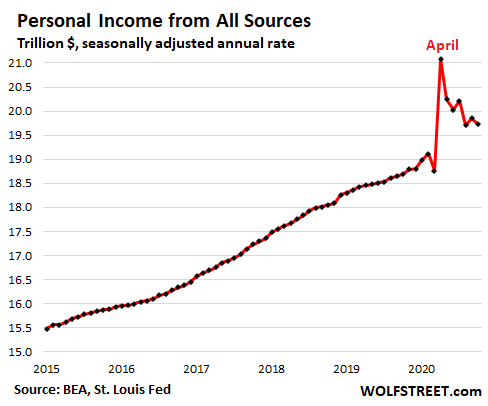 The personal income and spending numbers released by the BEA are "annual rates," a hypothetical concoction that extrapolates the amount of the current month out to an entire year, essentially multiplying the current month figure by 12. So no, consumers didn't spend $19.7 trillion in October. That was the "annual rate." And it was seasonally adjusted too. To illustrate: the actual personal income in all of 2019 was $18.5 trillion, or $1.54 trillion on average per month.
Free Pandemic Money Runs Low.
Income from unemployment insurance (UI) had skyrocketed from an annual rate of $28 billion received by consumers in February to an annual rate of $1.40 trillion in June, fired up by the extra $600-a-week in federal unemployment benefits, which expired at the end of July. While backlogs saw to it that payments were still being processed in the following months, the amounts of UI received began to plunge. And in October, it fell to $306 billion (annual rate), the lowest since March.