Who Bought the Monstrous $4.2 Trillion Added to the Incredibly Spiking US National Debt in 12 Months? Everyone but China
Who Bought the Monstrous $4.2 Trillion Added to the Incredibly Spiking US National Debt in 12 Months? Everyone but China
An increasingly important question, because someone always has to buy this debt – and it's not just the Fed. But the share of foreign holders is waning.
The Incredibly Spiking US National Debt has soared by $3.75 trillion since March 1, powered by stimulus and bailouts, and by $4.2 trillion over the past 12 months, to $27.3 trillion, after having already spiked by $1.4 trillion in the final 12 months of the Good Times. Trillions are zooming by so fast it's hard to even see them. But these are all Treasury securities, and someone had to buy them: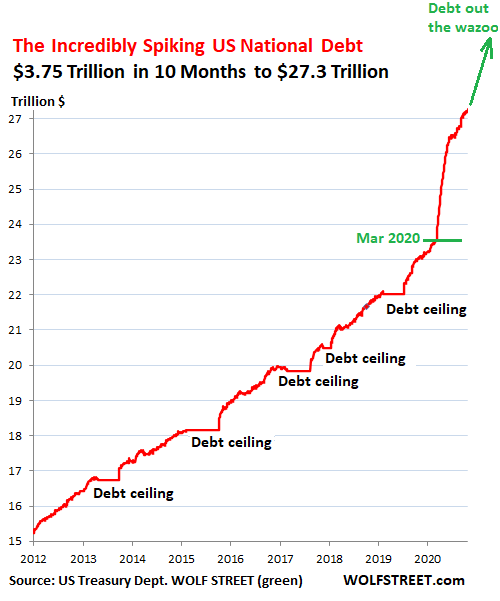 With the Treasury Department's Treasury International Capital data through September 30, released Tuesday afternoon, Fed's balance sheet data released weekly by the Fed, bank balance-sheet data also released by the Fed, and the Treasury Department's data on Treasury securities held by US government entities, we can piece together who bought those trillions of dollars in Treasury Securities over the past 12 months.
The share of foreign holders is waning:
Foreign central banks, foreign government entities, and foreign private-sector entities (companies, banks, bond funds, individuals, etc.) increased their holdings in the third quarter by $32 billion from the second quarter, which brought their holdings to $7.07 trillion.
Compared to Q3 last year, this total was up by $147 billion (blue line, right scale in the chart below). But their share of the Incredibly Spiking US National Debt at the end of Q3 declined to 26.2%, the lowest since 2008 (red line, right scale):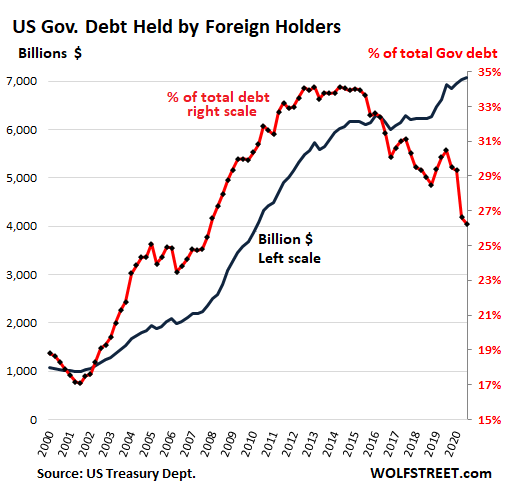 Diminishing importance of Japan and China: Japan, the largest foreign creditor of the US, increased its holdings in Q3 by $15 billion, to a total of $1.28 trillion. Over the 12 months, its holdings increased by $130 billion (blue line).
China (red line) continued to whittle down its holdings in Q3 by $13 billion, and over the 12-month period, by $40 billion, to $1.06 trillion, following the trend since 2015, with exception of its capital-flight phase: