Housing Market Goes Nuts, Everyone Sees it, But it Can't Last
Housing Market Goes Nuts, Everyone Sees it, But it Can't Last
There's a housing shortage until there's suddenly a housing glut: see San Francisco et al.
By Wolf Richter for WOLF STREET.
Another batch of crazy housing data yesterday. Crazy in the sense that the housing market, or rather part of it, namely the higher end of it, has gone totally crazy and that by now everyone knows that this isn't "sustainable," that "there's no way it can last forever," as Redfin CEO Glenn Kelman told CNBC. And he pointed out what everyone has already been pointing out, that "part of what is fueling this boom is that the economy has just split into two, and rich people are able to access capital almost for free, so, of course, they're going to use that money to buy homes."
But "there's just another group of Americans who are still struggling, who can't access the credit because we've raised credit standards, and you have high unemployment. I just think those two trends, at some point, have to collide."
It's the now well-established phenomenon of the "K-shaped recovery," where one part is doing well, and the other part is getting crushed.
Or as WOLF STREET commenter IdahoPotato called it vastly more accurately and unforgettably, the "FU-shaped recovery." Meaning, people who got bailed out and enriched by the Fed's $3 trillion that it threw at the markets to inflate the prices of stocks, bonds, housing, etc. are now happy as a lark, and to heck with the rest of the people that are getting crushed.
But this craziness in the housing market is not sustainable. The National Association of Realtors
reported
yesterday that sales of existing homes – single-family houses, condos, and co-ops – surged in September by 9.4% from August and by 20.9% from a year ago to a seasonally-adjusted annual rate of 6.54 million homes, the highest since 2006 (data via
YCharts
):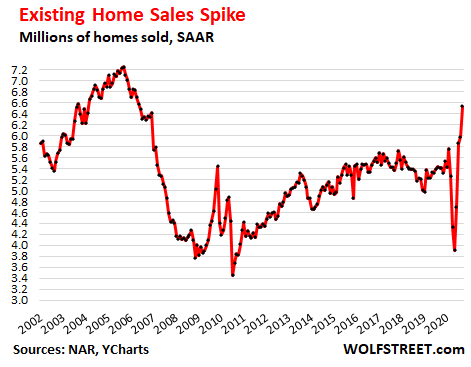 Seasonally, home sales normally decline in late summer and fall. But not this year. And the seasonal adjustments of the above numbers are designed for normal seasons. The NAR also releases raw(-er) sales numbers that are neither "seasonally adjusted" nor "annualized."
On a not-seasonally adjusted basis and not annualized, 500,000 homes were sold in September, up 24.7% from September last year, the highest year-over-year increase in the data except for two months during the depth of the Housing Bust – April 2010 and November 2009 – when sales were compared to a year earlier when sales had collapsed. Sales went through some wild gyrations from 2009 through 2011.
And on this basis (not seasonally adjusted, not annualized), and compared to September 2018, homes sales were up by 34%.