Gold: Cancelling the Breakout's Bullish Implications
Gold: Cancelling the Breakout's Bullish Implications by PRZEMYSŁAW RADOMSKI, CFA for Sunshine Profits
Since the situation developed in tune with my expectations from yesterday, today's analysis will be based mainly on yesterday's analysis, which remains valid.
The key takeaway from yesterday's remarks was that miners' relative weakness (on a short-term basis) nullified the bullish implications of gold's breakout. Thus, the situation didn't become more bullish because of that, at least as far as the mining stocks are concerned.
And indeed, yesterday, gold and silver mining stocks declined along with the underlying metals. To provide you with a better context, here's what we indicated yesterday: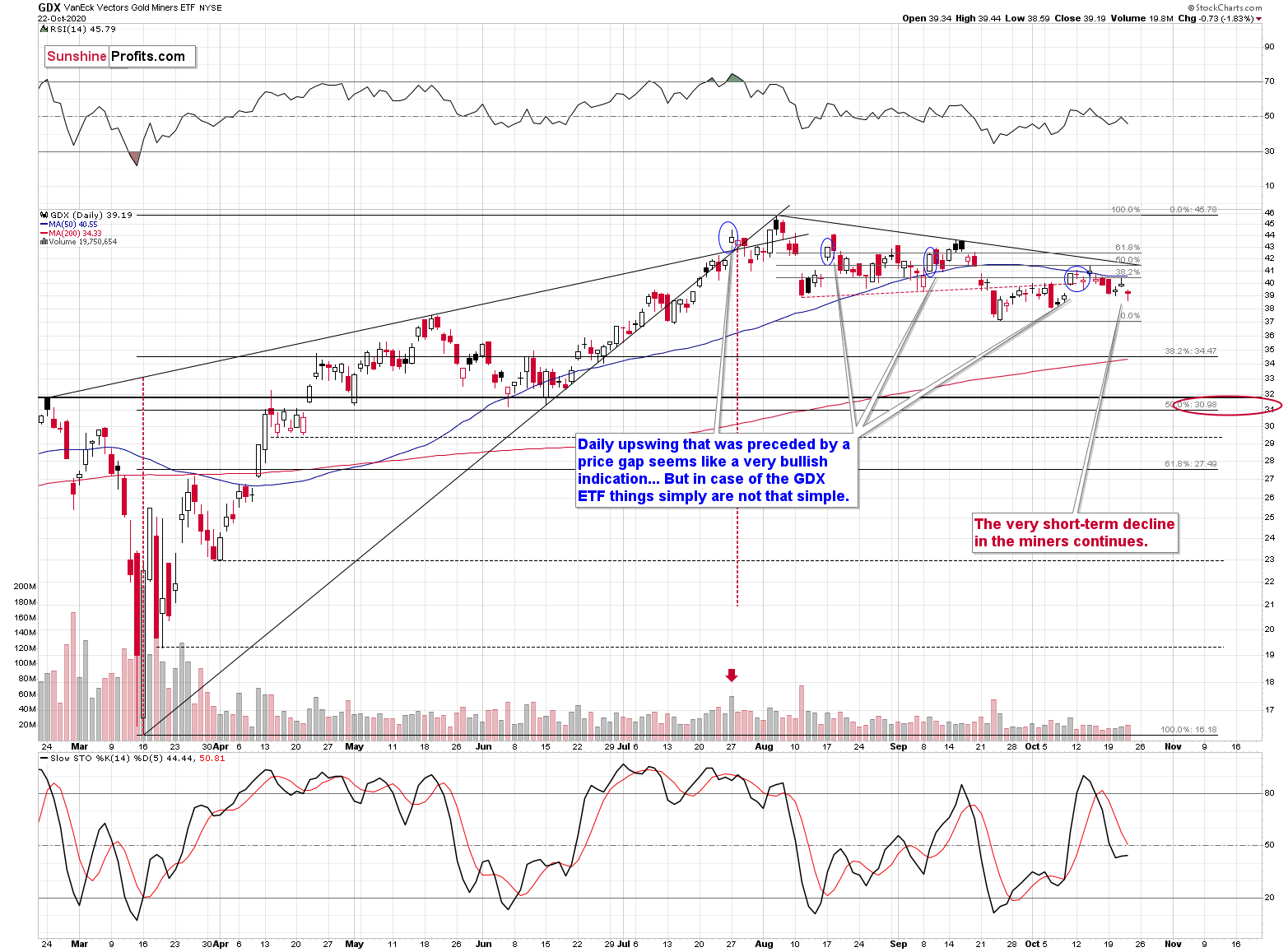 Yesterday, the GDX ETF (which we'll use as a proxy for the sector) moved higher ($0.95) but gave away most of its gains ($0.49) before the session was over, ultimately closing merely $0.46 higher. This means that miners have barely closed above their Friday's closing price. As a matter of fact, they didn't even move close to the October high.
Miners' weakness is something that heralds precious metals market declines, and such was the case back in early March. As you can see on the chart above, the GDX ETF didn't move back to its previous highs in March – even though at the same time, gold moved slightly above its previous highs. And we are all well aware of the carnage that followed.
So far, gold's reaction resembles what happened in early March – it declined quite profoundly yesterday, erasing more than its previous daily gains.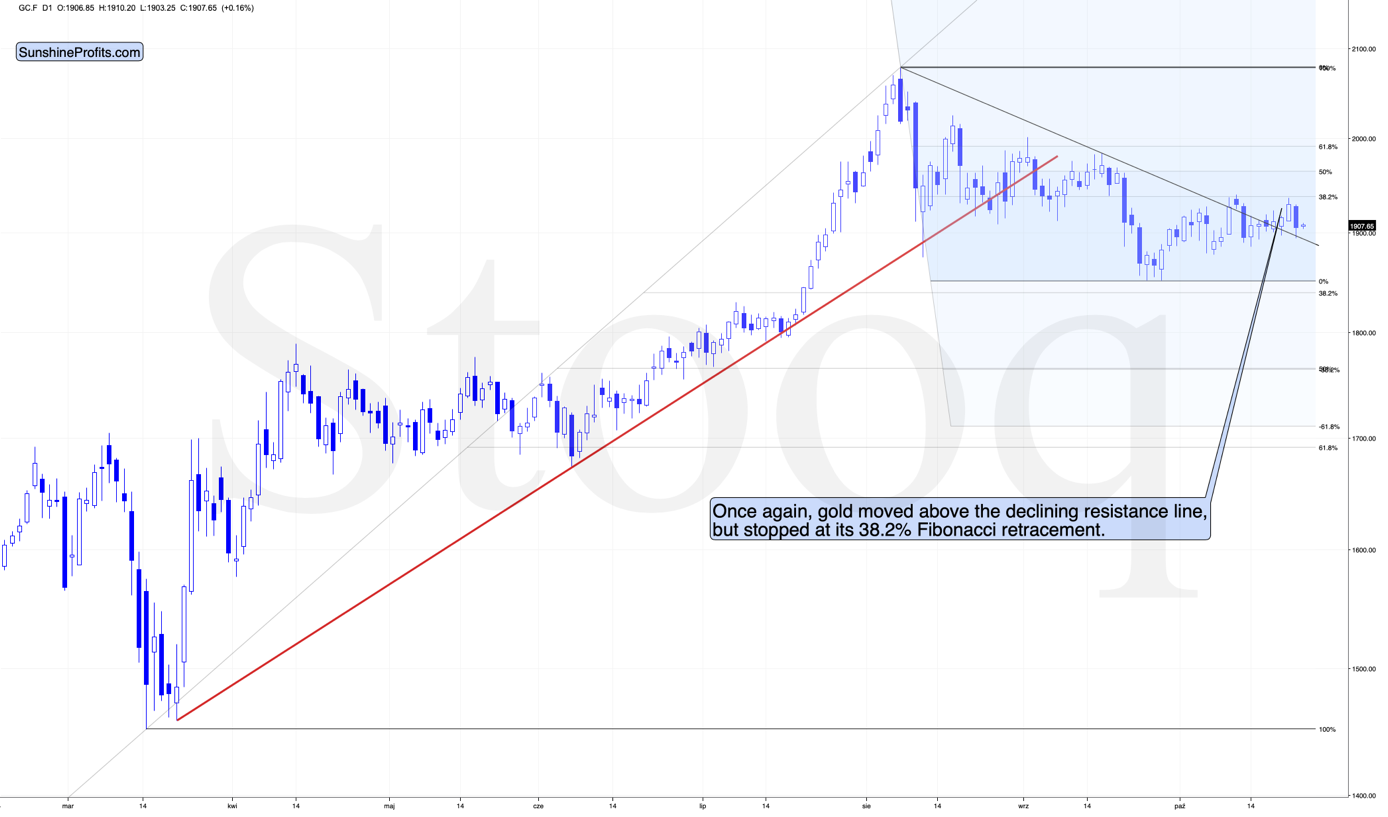 Gold stopped at the previously broken declining resistance line, which seems bullish. But, as we explained yesterday, that is not precisely bullish due to miners' weakness, which accompanied the breakout.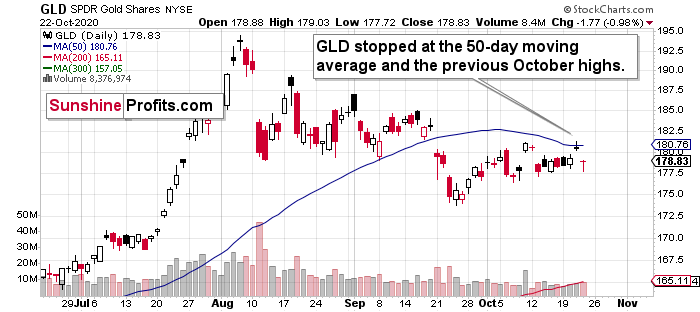 The chart above shows us that the GLD has just tested its October highs and its 50-day moving average, proving to be a strong resistance. Back in early September, this MA served as a support, and when it was finally breaking in mid-September, it was then followed by a quite visible decline. Right now, this makes it quite a potent resistance, and it's not surprising that gold declined after reaching it.
Additionally, please also take into account that the GLD bounces off relatively similar price levels. In August and early September, the 180-level and its surrounding served as support, and subsequently – in October – it served as resistance. There's a good reason why that's the case.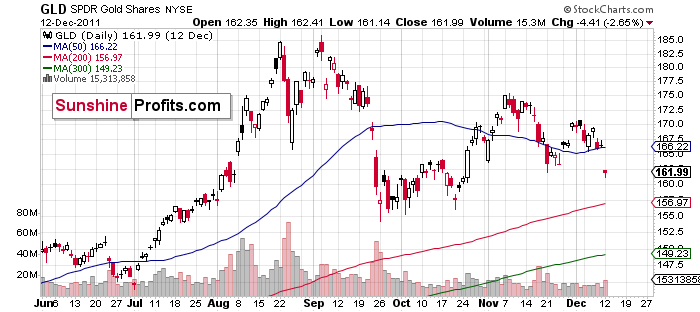 Namely, these are the levels that stopped GLD's rally back in 2011. This is where we saw the ultimate top. It formed a bit north of $180, but the overall area remains the same.
And what are the implications for the current situation because of it? That the resistance that gold and GLD just reached is stronger than it appears at first sight.
Currently, gold is trying to climb back above its 2011 highs, and the attempt is not a successful one for now. Even at the moment of writing these words, gold futures are trading below their 2011 high.
So… Is there any other indication that gold and miners are about to turn south? You bet! <the discussion continues in the full version of the analysis – today's Gold & Silver Trading alert>
Thank you for reading our free analysis today. Please note that the above is just a small fraction of the full analyses that our subscribers enjoy on a regular basis. They include multiple premium details such as the interim target for gold that could be reached in the next few weeks. We invite you to subscribe now and read today's issue right away.
Sincerely,
Przemyslaw Radomski, CFA
Editor-in-chief, Gold & Silver Fund Manager