Stimulus & Debt-Deferral Economy: Americans Splurged. Huge Price Increases Boosted Auto Sales. Liquidation Sales Pumped up Department Stores
Stimulus & Debt-Deferral Economy: Americans Splurged. Huge Price Increases Boosted Auto Sales. Liquidation Sales Pumped up Department Stores
Depicted by my 13 whiplash-charts.
By Wolf Richter for WOLF STREET.
Total retail sales – sales of goods in stores and online, but not including services such as doctor's visits, insurance, airline tickets, hotel bookings, rent, etc. – in September jumped by 1.9% from August, to a record of $549 billion (seasonally adjusted), according to the Census Bureau. Compared to September 2019, retail sales were up 5.4%.
But as we'll see in a moment, there were huge differences between categories, from sales at clothing stores and restaurants which, though they bounced a lot, were still below where they'd been years ago; to sales at stores for building materials and garden supplies, which jumped from record to record during the crisis: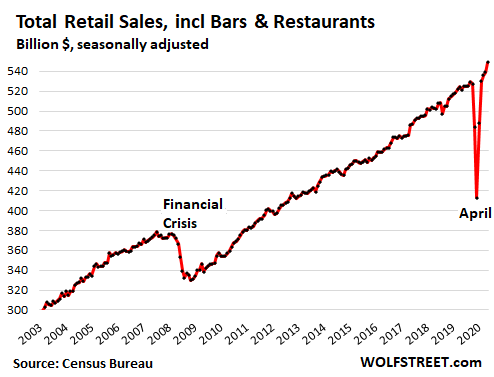 The stimulus money & things consumers no longer pay for.
There were a lot of things consumers didn't do, such as flying – passenger traffic in the US was down 65% from a year ago – staying at hotels, going to the movies, and the like. And the money not-spent on these services got spent on other stuff. About 7% of households with a home mortgage got their mortgage moved into forbearance, and they no longer have to make mortgage payments for the forbearance period, and that money of those not-made mortgage payments got spent elsewhere. And some renters, protected by eviction bans, have stopped making rental payments and spent the money on other stuff.
Then there were the stimulus payments, starting in April, some of which are still going out to people the IRS had trouble locating. And the extra $600 a week in unemployment benefits, and the federal program for gig workers (PUA) that states had trouble processing, were sent out often way behind and in lump-sums.
The extra $600 a week was replaced in August by the extra $300 a week, which states started sending out in late August and September, also in lump-sums. In California, the first lump-sum payments of $900, covering three weeks, were sent out in early September, and more was sent later in September. After six weeks of payments in California, the federal funds have been exhausted, and those final payments are now going out, according to the California Employment Development Division.