C-SPAN Suspends Anti-Trump Debate Moderator Steve Scully "Indefinitely" For Lying About Twitter Hack
C-SPAN Suspends Anti-Trump Debate Moderator Steve Scully "Indefinitely" For Lying About Twitter Hack by Tyler Durden for Zero Hedge
Update 1645ET: President Trump was quick to note that this is exactly what he had warned about with regard to Scully and the Debate Commsission:
I was right again! Steve Scully just admitted he was lying about his Twitter being hacked. The Debate was Rigged! He was suspended from @cspan indefinitely. The Trump Campaign was not treated fairly by the "Commission". Did I show good instincts in being the first to know?

— Donald J. Trump (@realDonaldTrump) October 15, 2020
C-SPAN has suspended anti-Trump debate moderator Steve Scully indefinitely after he admitted to lying about his Twitter feed being hacked following an awkward incident in which he appeared to accidentally tweet an intended private message to former Trump aide Anthony Scaramucci.
According to AP, Scully's suspension comes on the day he was set to moderate the now-canceled second presidential debate, which was to be 'a career highlight for the 30-year C-SPAN veteran' (and former Biden staffer).
After Scully tweeted "@Scaramucci should I respond to Trump," Frank Fahrenkopf, co-chairman for the Commission on Presidential Debates relayed Scully's lie that his Twitter account was hacked. C-SPAN similarly issued a statement, confidently claiming "Steve Scully did not originate the tweet and believes his account has been hacked."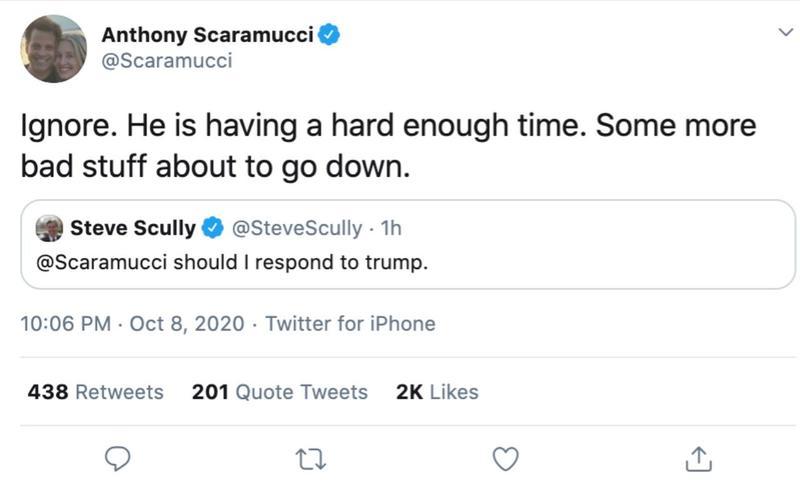 CSPAN Comment https://t.co/5gP8l6fAfX

— Pat Ward (@WardDPatrick) October 9, 2020
Shortly after Scully's 'hack' lie was peddled across the MSM by prominent voices, former Hillary Clinton staffer Yashar Ali noted that the C-SPAN veteran had previously blamed hacks twice before.
-->