Crazy Times Not Only for Consumers Trying to Buy a Used Car but also for Dealers Grappling with the Distortions
Crazy Times Not Only for Consumers Trying to Buy a Used Car but also for Dealers Grappling with the Distortions
Retail prices of used cars & trucks spiked most since 1969 despite lower sales and plenty of supply. Wholesale prices, after biggest spike ever, are already falling.
By Wolf Richter for WOLF STREET.
Prices of used cars and trucks have been on one heck of a crazy ride since the Pandemic started, with the market freezing up in March and April, and then heating up, with prices soaring but with demand and sales volume still not back where it was before the Pandemic. This – what would normally be contradictions – makes you shake your head.
Retail prices of used cars and trucks in September soared 6.7% from August, the biggest month-to-month jump since February 1969, according to the Consumer Price Index for September, released today by the Bureau of Labor Statistics.
This brought the three-month jump (July, August, September) to 15.1%. I checked the data back to 1984, and this was by far the biggest three-month jump. Even during the Cash-for-Clunkers program – when a whole generation of serviceable and affordable used vehicles were taken out the back and summarily shot to boost new vehicle sales during the Financial Crisis – the three-month price increases topped out at 9.2% at the end of 2009: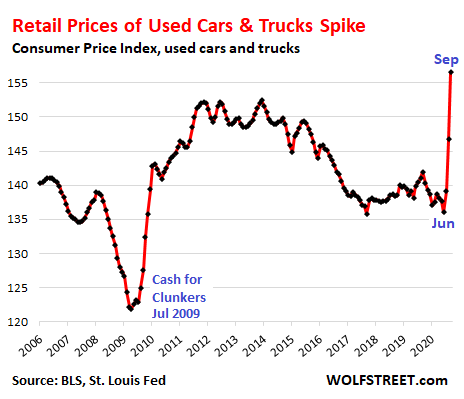 And what's even weirder is that this three-month record-breaking blistering-red-hot increase of the CPI for used vehicles occurred even though used vehicle retail sales volume in those three months remained below the levels a year earlier, according to estimates by Cox Automotive.
But wholesale prices have turned the corner.
A few days ago, we looked at used vehicle wholesale prices – based on industry data, not government data. The entire used vehicle wholesale market has been on a roller-coaster ride where auction prices in late spring and summer spiked into the stratosphere in a manner never seen before, with wholesale prices of pickup trucks skyrocketing an astounding 26% from a year ago, according to J.D. Power. But then prices topped out in August. On a weekly basis through early October, wholesale prices have declined nearly 5%, though they still remain above Pandemic levels.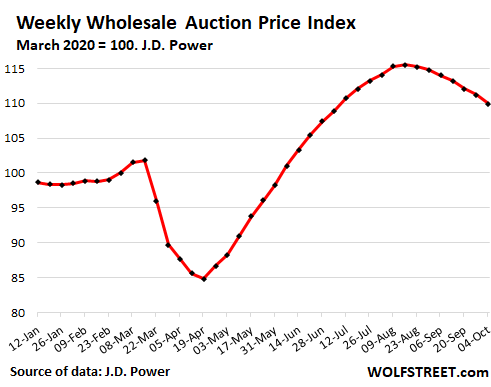 Except for three weeks during those seven months, wholesale volume – the number of vehicles sold at auctions per week – has remained below pre-Pandemic levels which during the Good Times ranged between 110,000 to 115,000 vehicles per week. Over the four weeks through October 4, weekly sales volume averaged only about 75,000 vehicles per week.