Two San Francisco Hiltons Add to Woes of Commercial Mortgage-Backed Securities. Special Servicing Rate of Hotel CMBS Spiked to 26%
Two San Francisco Hiltons Add to Woes of Commercial Mortgage-Backed Securities. Special Servicing Rate of Hotel CMBS Spiked to 26%
Four of the six hotels that hotel-REIT Park Hotels & Resorts owns in San Francisco are still closed as convention and business travel remains at near-zero.
Two Hilton hotel properties in San Francisco – the Hilton San Francisco Union Square, the Bay Area's largest hotel with 1,921 rooms, and the Hilton Parc 55, both in the Union Square area – owned by hotel-REIT, Park Hotels & Resorts [PK], have now been added to the huge pile of hotel properties seeking relief on their mortgages that have been packaged into mortgage-backed securities (CMBS). Both hotels are still closed, though some other hotels in San Francisco have reopened.
Tourism remains a small fraction of its former glory. Leisure tourism, which has come back a smidgen from near zero, is only part of the problem for these hotels.
Convention tourism is a huge factor in San Francisco, and all in-person conventions and meetings have been cancelled or converted to virtual events, including at the vast Moscone Convention Center. People on expense accounts are not coming to the City to go to conventions. And the Hilton San Francisco Union Square is the City's largest convention hotel, with 134,500 square feet of meeting space, ballrooms, and meeting rooms.
When mortgages that were packaged into CMBS get in some sort of trouble and borrowers ask the loan servicer for relief, they're added to the servicing watch list, and these two properties were now added to that watch list, according to the San Francisco Business Times. The mortgage backed by the two Hilton properties is still current, but the borrower, Park Hotels & Resorts, has asked the servicer, Wells Fargo, for relief.
If the borrower and the servicer cannot work out a deal, the loan is sent to a third party, the Special Servicer, and thereby added to the Special Servicing List. If the mortgage becomes delinquent, it is then added to the Delinquency list.
This Special Servicing rate for hotel properties spiked to a record of 26.0% at the end of September, according to Trepp, in its October report on CMBS.
But the delinquency rate of hotel properties ticked down, to a still astronomical 22.9%, as some delinquencies were "cured" because the delinquent loans were granted forbearance, and were therefore no longer considered delinquent, though no payments needed to be made. But the loans that have been granted forbearance continue to stay on the Special Servicing list, and the Special Servicing rate shows a more accurate picture of the state of the hotel property loans: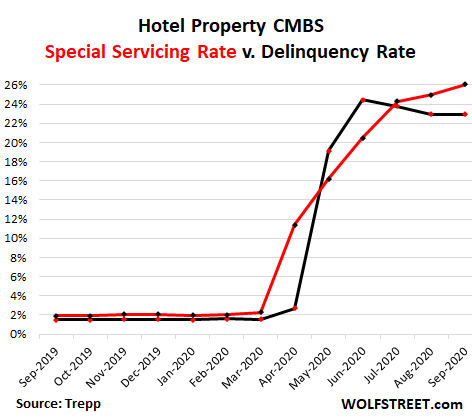 The CMBS Special Servicing rate of hotel properties has relentlessly increased every month since March, unlike the delinquency rate, which has edge down for the past three months largely due to forbearance being granted to delinquent loans.