Facing Crappiest Recovery Ever, Airlines Demand New $25-Billion Bailout, for $50 Billion Total, after Having Burned $45 Billion on Share Buybacks
Facing Crappiest Recovery Ever, Airlines Demand New $25-Billion Bailout, for $50 Billion Total, after Having Burned $45 Billion on Share Buybacks
Coddled investors, not taxpayers, should step up to the plate and fund the "daily cash burn."
By Wolf Richter for WOLF STREET.
October 1 is the day US airlines that accepted their portion of the $25-billion bailout under the CARES Act can start involuntary layoffs of their employees. They've been shedding large numbers of employees since March but through voluntary buyouts, early retirements, and other programs that induced employees to temporarily or permanently leave. Now the airlines are engaged in a desperate lobbying effort to get legislation signed into law that would provide the next $25-billion bailout package. Threats have been flying, so to speak, to motivate Congress to get this done.
American Airlines CEO Doug Parker told CBS News on Sunday that if there isn't a new bailout program, "there are going to be 100,000 aviation professionals who are out of work, who wouldn't be otherwise." This would include the 18,000 employees American Airlines has threatened to lay off.
So airlines have been lobbying hard. "You know, we have everyone putting us in every bill they have," Parker said. "We just need the bills to be laws. We need laws not bills."
American Airlines was also the airline that blew, incinerated, wasted, and trashed more than any other airline on share buybacks. Buybacks ceased in the second quarter, but from 2013 through Q1 2020, American Airlines incinerated $13.1 billion in cash on share buybacks. That cash would now come in very handy. 2013 was also the year Mr. Parker became CEO of American Airlines.
Delta blew, wasted, and incinerated $11.7 billion in cash on share buybacks over the period; Southwest Airlines, $10.9 billion (starting in 2012); and United $8.9 billion. In total, the big four airlines blew, wasted, and incinerated $44.6 billion in cash on share buybacks from 2012 through Q1 2020, and now the airlines want an additional $25 billion bailout, for a total of $50 billion, much of it in forms of grants, from taxpayers (data via
YCharts
):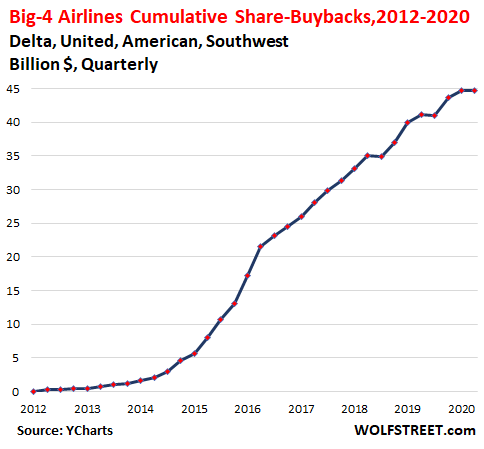 OK, the demand recovery has been the crappiest ever.
In terms of the numbers of passengers entering airports in the US, over six months into the Pandemic, the business is still down nearly 70% from last year, according to TSA airport screenings. The interesting thing is how the recovery is not happening, and how the strong seasonal patterns have disappeared.
-->