Gold vs. the Great Wave of Deflation
Gold vs. the Great Wave of Deflation from Bullion Vault
Don't fight the Fed? But what if it loses…?
DON'T FIGHT the Fed they say, writes Adrian Ash, director of research at BullionVault.
And they have mostly been right for the last half-century at least.
The world's most powerful central bank gets to decide the cost of borrowing the world's most important currency.
So it gets to direct both the amount of borrowing, investment, spending and speculation…
…and also, therefore, the quantity and thus the longer-term value of the Dollar itself.
Or so everyone thinks. Cheerleaders for buying gold most of all.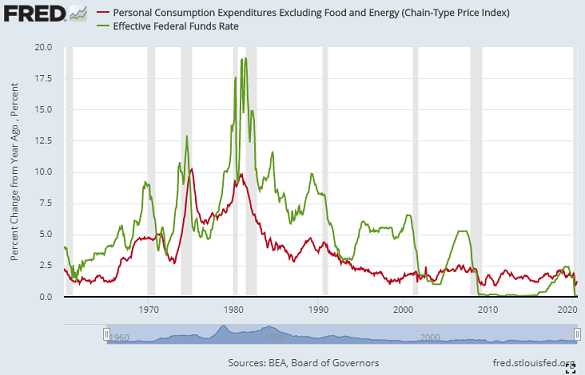 See where the US central bank raised interest rates in the 1970s…
…and hiked all the way to nearly 20% at the start of the '80s…?
Inflation fell back as the cost of borrowing jumped (while gold and silver prices collapsed after their 1970s' surge), enabling the Federal Reserve then to cut rates as growth in the cost of living receded.
Speculation in "inflation trades" also fell back…most dramatically in silver from its $50 top of January 1980…as the Fed ordered commercial banks to pull credit lines and tighten rules for financial loans.
Raising rates (also known as making money 'tighter') worked again in the late 1980s, crushing inflation once more. (Again it also seemed to help cause recession, as marked by those vertical grey bars in the chart above).
But something changed around the turn of the Millennium.
Now, instead of fighting inflation, the Fed found itself facing much slower growth in the cost of living.
You and I might have enjoyed this. We might have found that lower or even negative inflation helped grow our purchasing power, reducing the everyday stress of always needing to find more money just to stand still.
But instead of letting the cost of living flatten out, the Fed turned its fire-power against deflation…
…the evil twin of inflation…
…under which the real value of money goes up, instead of falling…
…knocking a hole in spending and investment and, most ugly of all, growing the real burden of existing debt on households, business and government.
-->