The Wild Ride of the FANGMANTIS Stocks v. Rest of Market
The Wild Ride of the FANGMANTIS Stocks v. Rest of Market
These 10 stocks, weighing 25% of the total market, are on one heck of a ride, now in the wrong direction. Rest of market has gone nowhere in nearly 3 years despite huge volatility.
By Wolf Richter for WOLF STREET.
The FANGMANTIS struck again. This WOLF STREET index of ten giant tech stocks, accounting for 25.5% of the total stock market capitalization as tracked by the Wilshire 5000, fell 1.1% today, though the broader market eked out a minuscule gain, with the S&P 500 up a hair.
These 10 stocks – Facebook, Apple, NVIDIA, Google parent Alphabet, Microsoft, Amazon, Netflix, Tesla, Intel, and Salesforce.com – are considered "tech" though they're also into ecommerce, auto manufacturing & auto retailing, social media, film production and distribution, and the like. Their combined market value (outstanding shares times share price) at its high on September 2 was $9.3 trillion. Since then, the FANGMANTIS Index has dropped by 12.9%, or to put real dollars to it, by $1.20 trillion (market cap data via YCharts):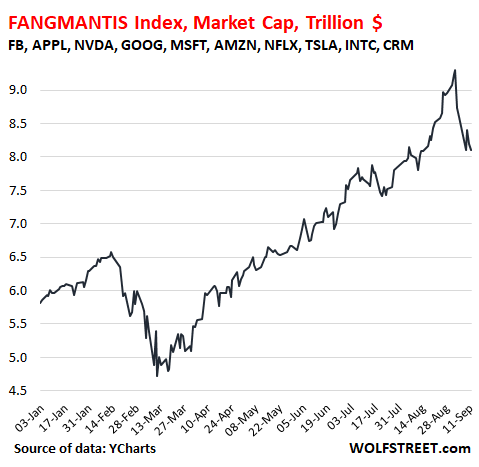 And yet, the FANGMANTIS Index has only fallen back to where it had been about a month ago, unwinding only the 15% gain between August 14 and September 2, that was part of the most astounding blistering blow-off-the-top 24% rally that had started on July 1. And despite the crash in late February and early March, the index is still up about 40% for the year.
While the FANGMANTIS index – I purloined the idea from a
WOLF STREET comment by Duane
– has dropped 12.9% from its closing high, the individual closing highs of the 10 stocks were spread over a period between August 31 through September 2, and these stocks have dropped between 5.8% (Intel) and 25.1% (Tesla) from their respective highs (date in parentheses):
These 10 stocks dominate the Nasdaq, and so it too fell today (-0.6%). From its closing high on September 2, it's down 10%.
Alibaba [BABA] is not in the FANGMANTIS because it's not a common stock; it's an ADR, issued by a mailbox company in the Cayman Islands that has a contract with an entity of Alibaba in China. Similar story with other big ADRs, such as Taiwan Semiconductor [TSM].
And all the other stocks without the FANGMANTIS?
The FANGMANTIS accounted for 25.5% of the total market, as tracked by the Wilshire 5000, which includes all 3,415 or so stocks listed in the US. So how did the overall market do without the FANGMANTIS?