Americans Must Remain Vigilant Or We'll Become An Even More Oppressed People
Americans Must Remain Vigilant Or We'll Become An Even More Oppressed People Story submitted to ANP by 'Prepping Army'
2020 Is The 'Year Of The Prepper': With Calamity And Chaos Already Gripping The Streets Of America – How will the election effect preppers? Preppers will survive but the world we inherit may be unrecognizable
There has never been a time where prepping for emergency was on the mind of so many Americans. In fact, you could argue that collective minds of the world are all thinking "Is it time to become a little bit of a prepper?"
Places like India are facing incredible infection rates, restrictions, and potential economic issues. They are one nation of many. While it might seem like rioting is happening only in your town or city, riots are happening all over the world!
I have found that many more people are doing prepper things without taking on the moniker. I am a people prepper. This is music to my ears. I want as many people prepared as possible. In fact, I think prepping is just a return to lost ways and lost skills that dominated our history as humans.
These polarizing elections are going to affect preppers in many ways. Some will be good, some bad and some downright ugly!
The Good 
Without getting too political I think we can all agree that this election is going to be a total mess. Not sure what aspect of it you have lost faith in, but it seems like a contested election and riots to follow are a given. For the first time in a long time Americans seem in accordance with this. It's not some kind of prepper conspiracy.
However, these elections are hardly all bad for preppers.
A First Good Thing
The chaos that has ripped through our nation while riding shotgun with the pandemic has undoubtedly affected many. People are seeing that there is more to these warnings from preppers and survivalists. Our ranks are swelling and that is a good thing.
While it can feel a little weird to have our cool "group" infiltrated by people who have not heeded our warnings over the years, it's important we welcome them with open arms and help them get settled in.
These elections and the chaos that follows will absolutely create more preppers.
A Second Good Thing
If you are not drumming up conversations with neighbors at this point, it is safe to say that you are lone wolf material. It's not easy and it can be scary, but having a neighborhood of people who are switched on to the threats is like gold!
Right now, it's easier than ever to talk about things like neighborhood security, neighborhood watch, emergency planning and the like. Offer up your expertise to your community and see who bites. If you put yourself out there a little bit, you could find several allies in your own community.
Related: Still Or Back In Stock ANP Shopping Page – Updated Weekly With Reader Suggestions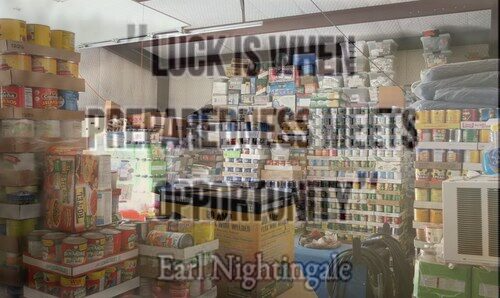 Time to Level Up 
These elections are going to increase the number of preppers at the starting gates. If you have been resting on your laurels, it might be time for you to consider taking things to the next level. Use this opportunity to increase your own level of preparedness.
Maybe the time has come to jump to solar power, dig a well or even just start some new prepper hobbies like blacksmithing, wood working, archery, metal detecting or something else you have been wanting to try.
You could always transform your home into an urban homestead! No matter what you do, use the motivation from all these new preppers to step your game up!
-->