Fired up by Stimulus Money & Debt Deferrals, Americans Went Shopping. But Where? How Life Changed During the Pandemic
Fired up by Stimulus Money & Debt Deferrals, Americans Went Shopping. But Where? How Life Changed During the Pandemic
In 12 Whiplash-Inducing Charts.
By Wolf Richter for WOLF STREET.
Retail sales by category of retailer show how Americans have adjusted to the Pandemic and to a very peculiar financial situation. Spending was supported by stimulus money that included the extra $600 a week in federal unemployment benefits. A study by the Becker Friedman Institute for Economics at the University of Chicago found that two-thirds of the people who received  unemployment insurance made more from UI than from working, with about 20% of them doubling their pay.
This scenario of cash coming into the house is further supported by cash not flowing out the house to make debt or rent payments. Millions of people have entered into debt-payment deferral or forbearance programs and skipped making payments on their mortgages, credit cards, auto loans, and student loans. Others, protected temporarily by eviction bans, skipped making rent payments. This money not-spent on debt and rent was then spent elsewhere.
Retail sales show how this panned out – and there are large differences by category, reflecting big shifts in how and on what Americans spent their money. According to Census Bureau data this morning, total retail sales in July ticked up by 1.2% from June, to $536 billion (seasonally adjusted) after some big bounces in May and June, from the collapse in March and April. Compared to July last year, total retail sales were up 2.7%: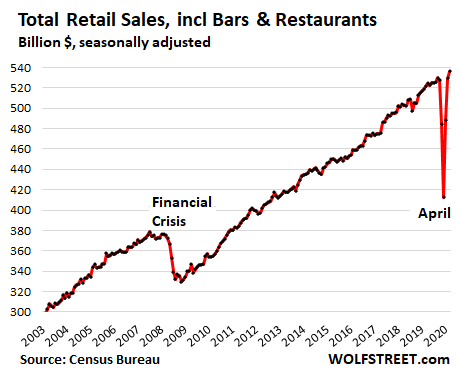 Sales at "Non-Store Retailers" – mostly ecommerce sales – spiked
during the lockdowns and then remained about level over the past two months. In July, they were up 25% compared to July last year. At $84 billion, they now account for 17.4% of retail sales (without restaurants and bars).
This category overlaps with much of ecommerce but also includes other non-store retailers such as mail-order operations, door-to-door sales, and sales at stalls and vending machines, which have gotten crushed. Proper ecommerce sales for Q2 will be released in a few days.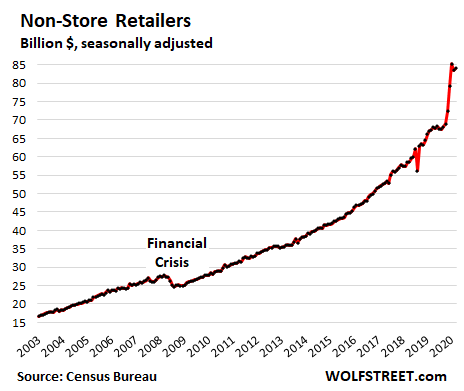 Sales at Food and Beverage Stores unwound part of the 18% spike in March during the beginning of the lockdowns when everyone rushed to the grocery store to load up – triggering the national "empty shelves era" that many people will never forget. But in April, sales fell back and have remained stable since then, but still 11% above the Old Normal last year. The recent months reflect a dramatic shift from eating out and eating at work and school, to eating at home:
-->