Turkey in 2nd Currency Crisis in 2 Years. Lira Hits Record Low
Turkey in 2nd Currency Crisis in 2 Years. Lira Hits Record Low
Foreign investors are fleeing, worried about surging inflation, deeply negative real interest rates, and a central bank unwilling to crack down on inflation.
By Nick Corbishley, for WOLF STREET:
The Central Bank of the Republic of Turkey (CBRT) has burned through tens of billions of dollars of increasingly scarce foreign-exchange reserves trying to prop up the lira. It has also borrowed vast sums of foreign currencies from domestic banks and then sold those currencies to buy lira. But to no avail. The Turkish lira is plumbing depths it's never seen before. This week, it sank to a record low of 8.30 lira to the euro and closed on Friday at 8.25. This three year chart also shows the currency crisis in August-September 2018: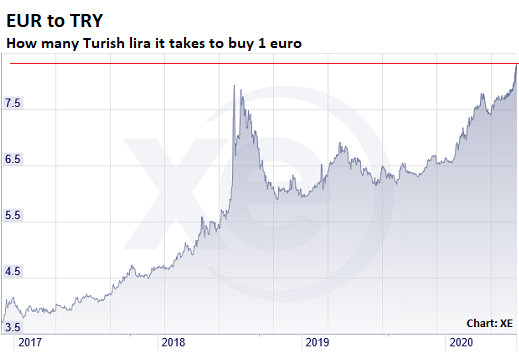 In terms of the dollar, the lira had hit a record low on May 8, at 7.2 lira to the dollar. Then the dollar spiraled into a sharp decline against a basket of other currencies. And the TRY found some relief against the dollar. But that ended early this week, when the lira started falling against the dollar as well, even as the dollar was falling against other currencies — to close on Friday at 7.0 TRY to the USD — stirring fears that Turkey could be on the cusp of yet another debt crisis, just two years after the last one.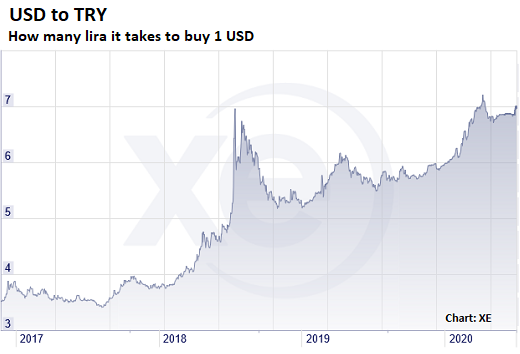 A Bleaker Panorama.
Today, Turkey faces a bleaker panorama than it did two years ago. The economy is weaker today than it was then, having already been through one crisis in 2018. Now, the virus crisis has wiped out a big chunk of the nation's revenue from tourism and exports while the plunging lira is making it hard, once again, for companies and the government to service their foreign-denominated debts, which in April still accounted for 37% of the total debt owed by Turkish borrowers.
This preponderance of foreign-denominated debt in Turkey is a huge risk for banks based in the country, warns S&P. Some of these banks are owned by European banks.
The CBRT, after burning through scarce foreign-exchange reserves to prop up the lira, has another option to try to prop up the lira: raising the benchmark interest rate.