Gold at New Record but Precious Metals Mixed
Gold at New Record but Precious Metals Mixed by PAUL REJCZAK for Sunshine Profits
The gold futures contract reached another new record high of $1,987.30 on Thursday, as it slightly extended its recent advance again. The market gained 0.69%, but the closing price was $20 below the daily high. Gold reached the highest in history following U.S. dollar sell-off, among other factors.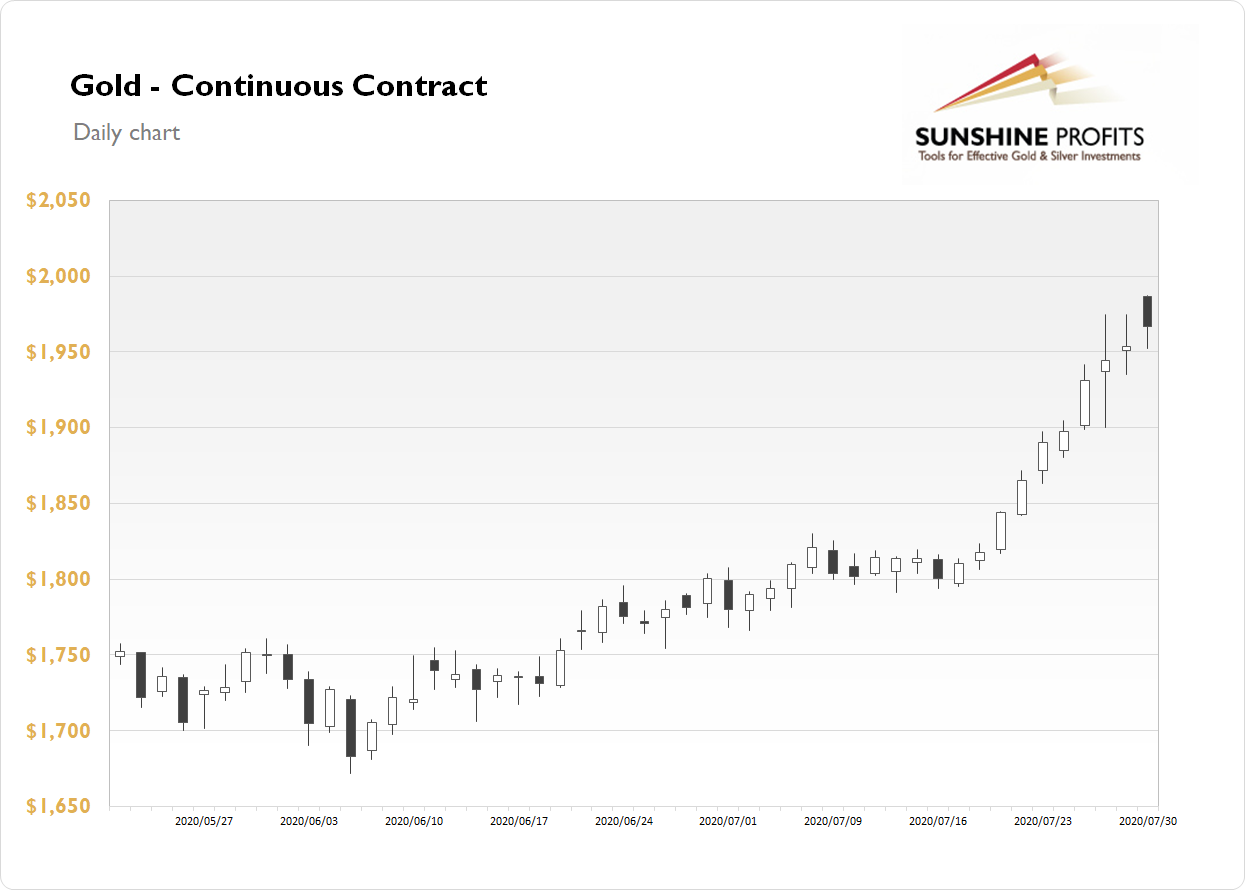 Gold is 0.9% higher this morning as it is trading along the new record high. What about the other precious metals? Silver lost 3.94% on Thursday and today it is 2.1% higher. Platinum lost 4.79% and today it is 0.3% lower. Palladium lost 5.59% on Thursday and today it's 1.0% lower. So precious metals are mixed this morning.
Yesterday's U.S. Advance GDP number has been slightly better than expected. However, the economy contracted by a stunning 32.9% in the second quarter. The Unemployment Claims number surpassed 1.4 million again.
Today we will get Personal Income/ Personal Spending release at 8:30 a.m. The Chicago PMI will be released at 9:45 a.m. and at 10:00 a.m. we will get the revised Michigan Sentiment number.
Below you will find our Gold, Silver, and Mining Stocks economic news schedule for today:
Friday, July 31
8:30 a.m. U.S. – Personal Spending m/m, Personal Income m/m, Core PCE Price Index m/m, Employment Cost Index q/q
8:30 a.m. Canada – GDP m/m, IPPI m/m, RMPI m/m
9:45 a.m. U.S. – Chicago PMI
10:00 a.m. U.S. – Revised UoM Consumer Sentiment
Thank you for reading today's quick gold news guide. If you enjoyed it, we invite you to read also our other gold market analyses. This includes our free Fundamental Gold Reports as well as premium Gold & Silver Trading Alerts with clear buy and sell signals and weekly premium Gold InvestmentUpdates. If you're not ready to subscribe to our premium services, a great way to check them out (also the premium services – free for 7 days!), is to sign up for our no-obligation free gold newsletter. We'll only ask to whom (just the first name) and to what e-mail address we should be sending our analyses. Sign up today.
Paul Rejczak
Stock Selection Strategist
Sunshine Profits: Analysis. Care. Profits.