ARE YOU LOVING YOUR SERVITUDE?
ARE YOU LOVING YOUR SERVITUDE? by Jim Quinn for The Burning Platform
"A really efficient totalitarian state would be one in which the all-powerful executive of political bosses and their army of managers control a population of slaves who do not have to be coerced, because they love their servitude." ― Aldous Huxley, Brave New World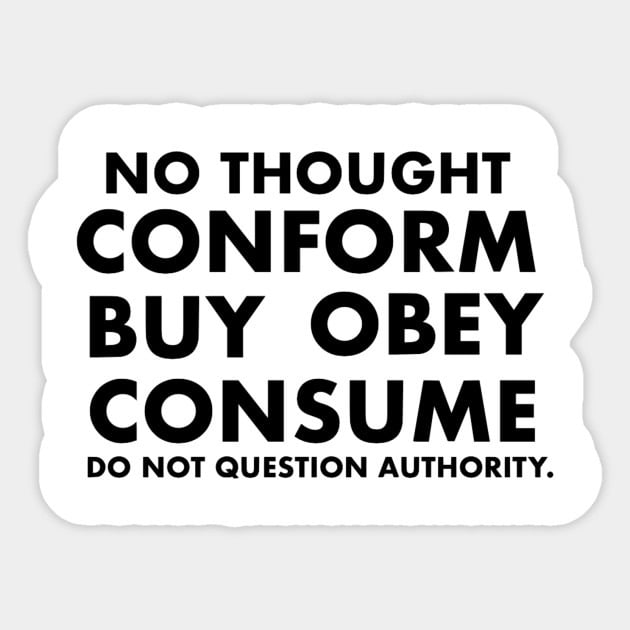 "Every record has been destroyed or falsified, every book rewritten, every picture has been repainted, every statue and street building has been renamed, every date has been altered. And the process is continuing day by day and minute by minute. History has stopped. Nothing exists except an endless present in which the Party is always right." ― George Orwell, 1984
Huxley and Orwell were contemporaries. Huxley's dystopian masterpiece was published in 1932 at the outset of the rise of totalitarianism, while Orwell's was published in 1949 after 65 million people perished in a World War and Stalin had already murdered tens of millions of his own citizens. Those were dark times. They also coincided with Edward Bernays 1928 publication of Propaganda, in which he revealed the existence of an invisible government who used propaganda to manipulate the minds of the public to insure those controlling the levers of power were able to engineer their desired outcomes.
Debate has raged over the decades whether Huxley's or Orwell's dystopian vision of the future would be more accurate. Both visions required the successful use of propaganda by those in power to achieve their agendas. Huxley wrote a letter to Orwell after reading 1984 in 1949, shortly before Orwell's death. His conclusion was as follows:
"Within the next generation I believe that the world's rulers will discover that infant conditioning and narco-hypnosis are more efficient, as instruments of government, than clubs and prisons, and that the lust for power can be just as completely satisfied by suggesting people into loving their servitude as by flogging and kicking them into obedience. In other words, I feel that the nightmare of Nineteen Eighty-Four is destined to modulate into the nightmare o f a world having more resemblance to that which I imagined in Brave New World. The change will be brought about as a result of a felt need for increased efficiency. Meanwhile, of course, there may be a large-scale biological and atomic war—in which case we shall have nightmares of other and scarcely  imaginable kinds."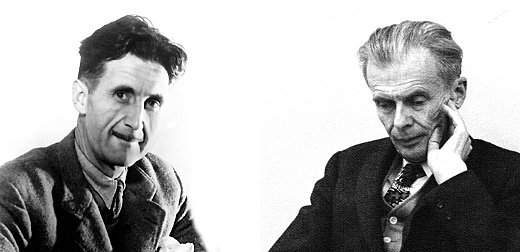 I would assess Huxley's vision was more accurate in the West, but Orwell's was more accurate in regards to Russia, China, and numerous dictatorships in South America and Africa. The key word is "was". Since 9/11, the United States has unequivocally moved in the direction of Orwell's 1984 vision. We are now experiencing a dystopian amalgamation of the worst of both novels. Virtually every conspiracy theory ridiculed by the corporate controlled media pundits, captured academics, and government apparatchiks over the last few decades have proven to be accurate and true.
But very few are able to discern the truth because The Party/Invisible Government/Deep State has been hugely successful in utilizing propaganda and public education indoctrination to dumb down and manipulate the minds of the masses into believing whatever they are told by their masters. The complete success of this mass psychological conditioning has been on display for the last four months, as the majority have come to love their enslavement and servitude based upon the inept and hysterical misinformation propagated by medical "experts", government bureaucrats, corrupt politicians, and the fake news media complex.
Huxley's infant conditioning and narco-hypnosis were close, as public education has not been about learning critical thinking skills for decades, but indoctrination to what the government desires, producing non-questioning workers who can be easily manipulated through propaganda into obedience and conformity. The pervasive use of Ritalin to make boys act more like girls has been heavily pushed by the educational complex (dominated by women), attempting to produce zombies who don't cause trouble or act like boys should.
The feminization of males has contributed greatly to the downward spiral of our society. Huxley did foresee technology being used to distract the masses, producing a trivial culture, egotism, pleasure seeking and passivity. The boob tube, internet, and social media have fulfilled this prophecy, producing generations of pliable, easily controlled victims, whose minds have been molded and ideas formed by those pulling the strings of our society behind the scenes.
The willingness of tens of millions to unquestioningly believe what they have been told by their leaders and supposed medical "experts" regarding a virus which will not kill 99.97% of the American population is a fascinating exploration of herd mentality and the power of fear propaganda. This nasty virus, supposedly let loose from a Wuhan bio-lab, is less deadly than the annual flu among those under 65 years old and more deadly when purposefully introduced into nursing homes by politicians.
The virus has less negative impact on school age children than the annual flu. But governors, mayors and teachers' unions are refusing to open schools in the Fall, despite the data and actual experience in European schools proving it is safe to do so. The path of history during 2020 has not been natural or propelled by normal un-manipulated circumstances. The manner in which events have transpired seems staged, well planned, and designed for a purpose not yet revealed to the masses.
The year started with fears of war with Iran after the assassination of a key general in Iraq. The three-year Trump coup by Obama, Clinton and their co-conspirators in the FBI, CIA and Congress was once again collapsing under the weight of lies, fake news, and blind hatred, as Schiff's impeachment farce crashed and burned. It was Trump's turn to go on the offensive, as Barr and Durham investigated the coup.
Meanwhile, the gears of the financial system had been seizing up since the middle of 2019 and the Fed was propping up its Wall Street owners, hedge funds, and the billionaire class with "not" QE, while publicly lying that all was well. The Fed was desperately trying to keep the wheels from falling off. The QE, as planned, was pumped into the stock market, driving prices to all-time highs in February, showing all the signs of a blow-off top.
This was when the eleventh year of this Fourth Turning really began to get interesting. It was almost as if the Federal Reserve needed a disaster catalyst as a reason to unleash a torrent of easy money to save their Wall Street benefactors, their corporate crony parasites, and the billionaire oligarchs who constitute the invisible government pulling the wires controlling the nation.