This Is What Most Americans Are Missing: The Ties Between Bill Gates, The Covid 19 Vaccine, Digital ID's And The Full Implementation Of The Global Control Grid
This Is What Most Americans Are Missing: The Ties Between Bill Gates, The Covid 19 Vaccine, Digital ID's And The Full Implementation Of The Global Control Grid By Professor Steven Ferry for All News Pipeline
– 'Most Tyrannies Begin Because Men Have Moved Too Late'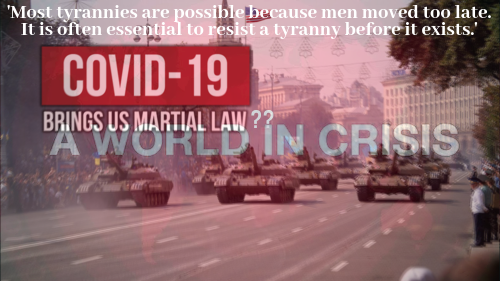 We have just compared the demands made by governments (to protect us from a vicious and omnipresent viral scourge) to the harmful results (economic, health,individual freedoms) brought about by acquiescing to those demands while no pandemic materialized. We examined the censorship of all information departingfrom the official narrative and the harmful nature of the enforced vaccinations that lack efficacy and consistently demonstrate harm.
This week, we shine a spotlight on those individuals and organizations who have brought about this complete upending of life for the whole planet; we offer solutions to help put an end to the monkey business so we can regain the joys of living.

"Most tyrannies have been possible because men moved too late. It is often essential to resist a tyranny before it exists." – G.K. Chesterton, Eugenics and Other Evils: An Argument Against the Scientifically Organized State
Special Interest Groups with Undisclosed Agendas

There is no doubt that there are as many agendas, both hidden and open, regarding this pandemic as there are companies, associations, and individuals who would benefit in some way-such as from a vaccine being enforced on the worldwide population; or governments of certain countries or even political parties, etc. positioning themselves in pursuit of their own interests (certain Democratic party leaders, for instance, are on record as saying they should take advantage of the pandemic to pass laws favorable to their political goals or to oust a sitting president. Even the WHO has an agenda, including trying to levy a 10% tax on all countries to "fight the virus."
Vaccines are the cornerstone upon which governments are relying for their Covid-19 strategy, yet as covered earlier in this series, vaccinations for viruses have limited efficacy and plenty of downsides.
One might be curious as to what is driving this fixation for mandatory vaccines as the solution, especially considering the normally lengthy time-to-market for such vaccines and the concomitant financial collapse being visited upon the entire planet.
Curiously enough, key players seem to be the richest individuals in the world and their foundations: Mr. Rockefeller and his foundations and the same Mr. Gates who brought us buggy software programs (disclaimer-the author is a decades-long Macophile).
The stage was set in the early 1900s, [when] America's first Billionaire, John D. Rockefeller bought a German pharmaceutical company that would later assist Hitler to implement his eugenics-based vision by manufacturing chemicals and poisons for war. Rockefeller wanted to eliminate the competitors of Western medicine, so he submitted a report to Congress declaring that there were too many doctors and medical schools in America, and that all natural-healing modalities were unscientific quackery.
Rockefeller called for the standardization of medical education, whereby only his organization be allowed to grant medical school licenses in the US. And so began the practice of immune suppressive, synthetic, and toxic drugs. Once people had become dependent on this new system and the addictive drugs it provided, the system switched to a paid program, creating lifelong customers for the Rockefellers.
Currently, medical error is the third leading cause of death in the US. Rockefeller's weapon to success was the strategy known as, "problem-reaction-solution." Create a problem, escalate fear, then offer a pre-planned solution. Sound familiar?  Plandemic movie literature (ANP: 'Plandemic' the movie embedded as final video at the bottom of this story).
"Those who are capable of tyranny are capable of perjury to sustain it." – Lysander Spooner
Using this preferred medicine paradigm, the fledgling pharmaceutical industry, took advantage of the millions of American Army recruits called up for war in 1917 to test up to 25 vaccines designed to cause a mild case of the disease they were supposed to prevent-the problem being that it was impossible to predict whether the case would be mild, severe, or fatal-as some prove to be instantly. Many of the vaccines brought about unrelated diseases, such as the smallpox vaccine causing syphilis, paralysis, leprosy, and cancer.
The yellow fever vaccine alone resulted in 63 deaths and 28,585 cases of hepatitis in half a year. The Rockefeller Institute for Medical Research in New York oversaw the Bacterial Meningitis Vaccination Experiment at Fort Riley Kansas in 1918, wherein thousands of US Army recruits were vaccinated with a horse-cultured vaccine. These soldiers exported the Spanish Flu as it came to be known to the world, killing up to 100 million people with bacterial pneumonia (not a flu or virus)-the largest death-event in recorded history.
Mr. John D. Rockefeller's debut in the field of medicine left something to be desired. Was he a doctor? No, a rapacious oil tycoon and a businessman interested in accumulating even more money and power. If Mr. Rockefeller really wanted to protect his fellow citizens, he would not have engaged in the strategy outlined above, focusing on the use of chemicals as outlets for his oil empire that are only capable of alleviating symptoms, rather than the preferred (for citizens) focus on preventing or curing diseases.
To downplay this contrast, the medical community has lobbied for it to be illegal in the US, at least, to cure, or to state that one can cure anything and has conditioned patient expectations to managing symptoms, not enjoying a cure. Any doctors who cure patients find themselves on a fast track to being shut down, often at gunpoint or simply murdered.
Note: This is not an attack on western medicine, which definitely has its place, as do traditional, alternative, and integrative medicines. A true medical science focused on prevention, alleviating, and curing would be good for patients, but not the pocketbooks of pharmaceutical and other vested interests that profit from managing sickness rather than health.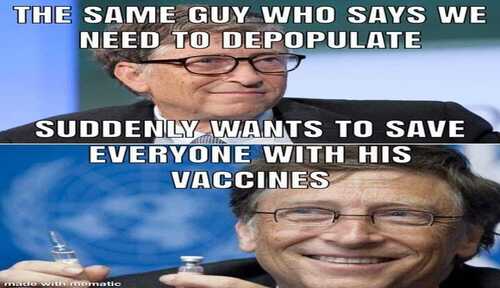 Mr. Gates Switches from Software to Vaccines
In March 2017, Mr. Gates told the US President, who was concerned about vaccine safety, not to establish a Vaccine Safety Commission headed by Robert Kennedy, Jr. so it was not set up. Just to be clear, Mr. Gates is not a public health expert, a doctor, an epidemiologist nor an infectious disease expert. He is simply one of the richest men in the world, which does not give him expertise in medical matters, but does in making money (and computer programs, specifically, although
stealing software
and control and
"brain rape"
of competitor breakthroughs may not reflect software genius so much as a deficient business ethics).