Coal Consumption Plunged to Lowest Since at Least 1973. Why There's No Hope for Coal
Coal Consumption Plunged to Lowest Since at Least 1973. Why There's No Hope for Coal by Wolf Richter for Wolf Street
It comes down to costs and being bypassed by technological innovation, amid stagnating demand for electricity:

Arrival of "combined cycle" natural gas power plants in the 1990s.
Collapse in price of natural gas since 2008 due to fracking.
Surging wind power production in TX, OK, KS, IA.
Decades-long decline of industrial use of coal.   
Consumption of coal by US power plants in April plunged 30% from April last year, to the lowest level in the monthly data going back to 1973, the EIA reported today. This was down 19% from April 1973.
A process of many years: Peak monthly consumption of coal by US power plants occurred from 2003 through 2008 when during the hot summer months (air conditioning) caused coal consumption to rise to 95-99 million short tons. In 2019, the peak month was July, when coal consumption by power plants was down to 56 million short tons. And this year, given the relentless trend over the past 12 years, July consumption will be lower still: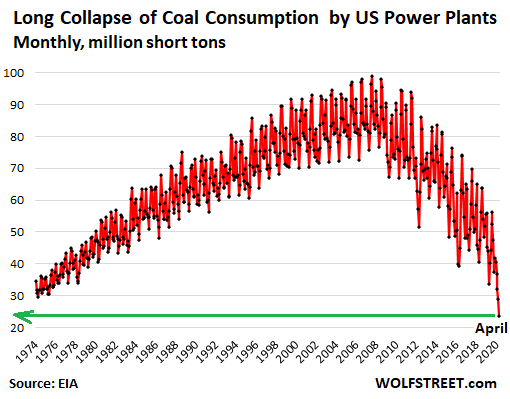 "King coal," as it was called in the 1990s when it was still the dominant fuel for power plants, was heavily wounded by a technological innovation, the Combined Cycle Gas Turbine power plant, commercialized in the 1990s.
A CCGT power plant uses natural gas to fuel a combustion turbine, similar to a turbine in a jet aircraft. It then uses the hot exhaust gases to heat water into high-pressure steam that drives a steam turbine. Both turbines drive generators to generate electricity. The thermal efficiency of a CCGT plant has reached about 65%.
Coal power plants just create high pressure steam that drives a steam turbine. At the time, their thermal efficiency was below 40%. The rest was waste heat.
But retiring old coal-fired power plants and replacing them with CCGT plants was a gradual process, and CCGT plants only gradually made measurable inroads into the overall power generation portfolio. Increasing electricity consumption until 2008 covered up the market share losses of coal that started in the 1990s.
Then in 2008, the wide commercialization of fracking for natural gas caused production of natural gas in the US to surge, and the price to collapse, reaching multi-decade lows in recent years, currently in the range of $1.70 per million Btu – compared to the $2.20-range in the late 1990s and the $4-$8-range from 2000 to 2008.