Gold & Silver Seeker Report: This Week in Mining Issue #23 – Silver Blast Off, Gold Nearing New All-Time High, and Countless Financings
Gold & Silver Seeker Report: This Week in Mining Issue #23 – Silver Blast Off, Gold Nearing New All-Time High, and Countless Financings
Chief Mining Analyst, SilverSeek
This week saw higher metal prices with the mining stocks performing well. Silver had an incredible week, being up >$1/oz. for two consecutive days. Silver reached on all-time high and had its best week in a long time. Like two weeks ago, there were countless financings for junior stocks again this week, which are listed below. Earnings should start to be reported in two weeks or so. Some companies will report great numbers and others not so much, all depending on the impact of mining suspensions (if any) for every company. Regardless, Q3 numbers will be an absolute blow-out.
$AGC.V, $ATY.V, $AUN.V, $BRC.V, $CGC.V, $ELY.V, $EDV.TO, $ERD.TO, $GCM.TO, $GRSL.V, $IAG, $KTN.V, $KORE.V, $LIO.V, $MKO.V, $PAAS, $PG.TO, $ROXG.TO, $SVM.TO, $SKE.V, $AUY
There was another round of financings this week as investor interest is very strong. This include:
Spanish Mountain Gold $5m private placement (PP) with Eric Sprott.
Leocor Ventures announced a $2.4m PP.
Boreal Metals announced a $2m PP.
Discovery Harbour Resources closed a fully subscribed $3m PP.
Aurcana announced an over-subscribed and increased PP to $12.25m.
VanGold Mining announced a $2.45m placement, which was increased to $3.8m.
Revival Gold announced an increase bought deal financing to $13m.
West Vault Mining (Previously West Kirkland) announced a placement to raise up to $15.7m to consolidate Hasbrouck Gold Project.
Talisker Resources announced a $15m bought deal PP.
Blackrock, on the heels of putting out some excellent drill results, announced a $7.5m PP, led by a $5m investment from Eric Sprott.
Cartier Resources announced $5m PP of flow-through shares.
Reunion Gold announced $4m PP.
Lion One Metals announced a $20m bought deal PP. Each unit will consist of one common share and ½ of one common share purchase warrant at C$2.35/share for a 12-month period. The half warrant isn't all that bad as the term is short and the strike price is 32% higher than it is on the date announced (July 23rd).
Excellon Resources increases financing to $15m.
BeMetals announced $6m PP.
Sonoro Metals $5m PP.
African Gold Group $5m PP.
Rockhaven Resources PP.
Maple Gold $4m financing.
Great Thunder Gold announced $2.6m PP, Eric Sprott increases investment.
Erdene Announced $20m financing led by $15m investment from Eric Sprott
Amarillo Gold: entered into an agreement with Mackie Research Capital Corporation for a $35.7 million private placement and a $21.5 million bought deal short form prospectus public offering for total gross proceeds of $57.2 million. The Company will use the net proceeds from the offerings to build the Posse Gold Mine and advance the Lavras do Sul exploration project, both in Brazil, and for working capital and general corporate purposes. This equity financing secures the equity portion of financing for the construction of the Posse Gold Project. The rest, of course, will be financed via debt. Like so many financings lately, Eric Sprott is leading this. Eric Sprott and Baccarat Trade Investments Ltd have committed to and subscribed for the whole private placement. This is a big vote of confidence in would could be Brazil's next gold mine [this or Equinox Gold's Santa Luz project].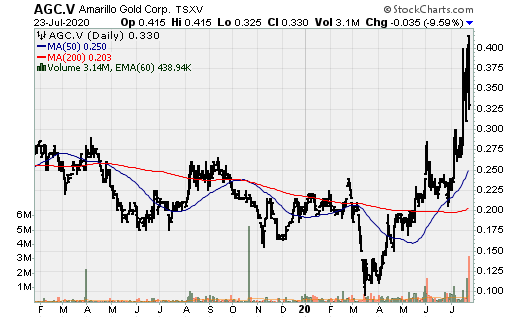 Atico: Announced three holes from its ongoing drill program at its La Plata precious metals-rich VMS project in Ecuador. La Plata drill highlights include:
8.25m @ 14.6 g/t Au, 303 g/t Ag, 0.34% Cu, and 2.10% Zn
3.11m @ 16.55 g/t Au, 157 g/t Ag, 10.67% Cu, and 7.64% Zn
Intercepted additional high-grade zones including 1.31m @ 32.9 g/t Au, 237 g/t Ag, 16.25% Cu, and 2.16% Zn.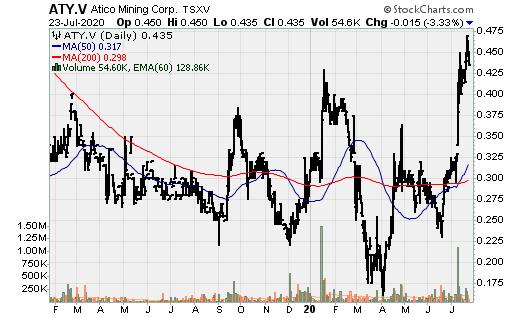 Aurcana: Flush with cash, as noted from the above financing, Aurcana will use the proceeds to advance its Revenue-Virginius North area in Colorado. Underground development is on-going and the proceeds will be targeted toward placing orders for long lead time equipment and completing the rehabilitation of the emergency escapeway. It also commenced a diamond drill program targeting the Virginius vein extension.