Brick & Mortar Retailers, Malls, Mall-REITs, and their Debts: The Whole Schmear is Coming Apart
Brick & Mortar Retailers, Malls, Mall-REITs, and their Debts: The Whole Schmear is Coming Apart
There's Just No Good Way Out. The only thing that is surprising is how long these retailers and malls, which have been spiraling down for years, were able to hold on.
By Wolf Richter for WOLF STREET.
The WOLF STREET market-cap-weighted stock index of 11 mall REITs made a heroic effort to bounce off the crisis low, and was able to double in three months, but has by now given up much of it and appears to be heading back to crisis lows. The index includes: Simon Property Group, Tanger Factory Outlet Centers, Taubman Centers, Cedar Realty Trust, Macerich, Seritage Growth Properties, Kimco Realty, RPT Realty, Washington Prime Group, Brixmore Property Group, and CBL, which is preparing to file for bankruptcy.
After Friday's 2.2% drop, the index is down 74% from August 2016, when the Big Skid started. And from that heroic spike that topped out on June 8, it has now plunged 35% (market cap data via YCharts):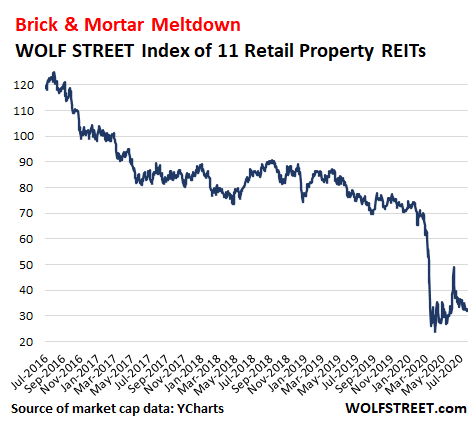 What will be left when the brick-and-mortar meltdown is over?
The process started years ago. Ecommerce, a structural shift in how Americans shop, has wiped out retailer after retailer, from big ones such as Sears Holdings and Toys 'R' Us, to smaller ones. It created a night-mare scenario for malls and landlords – including REITs – that own the malls, and for investors that hold the mortgages and the Commercial Mortgage-Backed Securities (CMBS) that these mortgages have been packaged into.
And now that the pandemic is compressing future years of brick-and-mortar meltdown into a few months, the whole schmear is coming apart.
Ascena, the latest in the Pandemic Series.
The latest mega-retailer that filed for bankruptcy and announced large-scale store closings was Ascena Group, which operated about 3,500 stores last year, but after closing all its 661 Dressbarn stores in December, it's now down to 2,800 stores.
Its seven surviving brands are Ann Taylor, LOFT, Lou & Grey, Lane Bryant, Cacique, Catherines, and Justice. As part of its bankruptcy restructuring, it will close about 1,600 stores, beginning initially with 1,100 stores, including all its 264 Catherines stores, most Justice stores, plus some Ann Taylor, Loft, Lane Bryant, and Lou & Grey stores.
Ascena Group has hired a liquidator, SB360 Capital Partners, and the going-out-of-business sales are commencing at these stores.