Home Sales Down -11% from Year Ago, Condos -23%, but Bounce off Lockdown-Lows
Home Sales Down -11% from Year Ago, Condos -23%, but Bounce off Lockdown-Lows
More signs of a move from the cities to the suburbs? Supply of houses is tight; condos are piling up.

By Wolf Richter for WOLF STREET.
Sales of existing homes (closed transactions of single-family houses, townhomes, condos, and co-ops) in June fell 11.3% compared to June last year, to a "seasonally adjusted annual rate" of 4.72 million homes, according to the National Association of Realtors. Sales were down 18% from the recent peak in February. On a month-to-month basis, sales bounced off 20.7% from the historic lockdown-low in May (historic data via YCharts):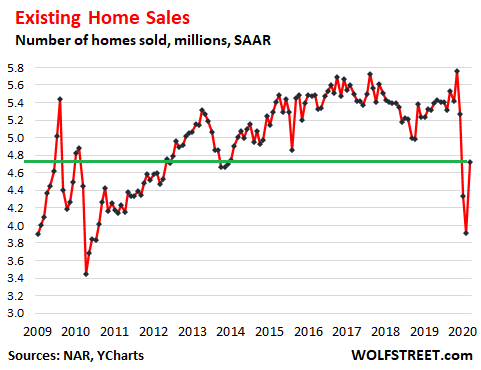 The 11.3% year-over-year drop in the seasonally adjusted annual rate of sales was the sharpest drop, after the plunges in April and May, since April 2011 (historic data via YCharts):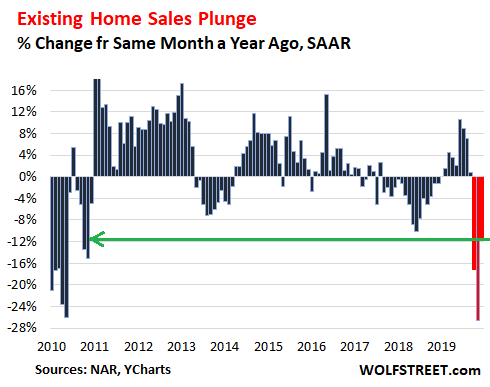 Sales fell in all regions, compared to June last year:
Northeast: -27.9%
Midwest: -13.4%
South: -4.0%
West: -13.6%
Condo sales in deep trouble, house sales drop less, compared to June last year:
Single-family houses: -9% year-over-year, to 4.28 million units seasonally adjusted annual rate.
Condos and co-ops: -22.8% year-over-year to 440,000 units seasonally adjusted annual rate.
From the big cities to the suburbs?
This is a theme that is now propagated widely, and anecdotal evidence has been accumulating to support it, including the continued massive weakness in condo sales (-22.8% year-over-year in June after having plunged 41% in May). These "closed sales" in June reflect contracts signed largely in May and April, so it's early to draw conclusion about a long-term trend.
The NAR report also mentions this from-the-city-to-the-suburb theme as a possibility:
"Homebuyers considering a move to the suburbs is a growing possibility after a decade of urban downtown revival. Greater work-from-home options and flexibility will likely remain beyond the virus and any forthcoming vaccine."
There had been a huge surge over those ten years in high-rise construction in city centers – condos and apartments, and mostly higher-end. High-density living has its advantages, including short or no commutes, being close to lots of things to do, particularly in lively walkable city cores. High-rise living can also offer panoramic views.
But the pandemic has shed a very different light on this type of living arrangement, and it makes intuitive sense to see a move from the city centers to the suburbs, especially now with commutes no longer being an issue for some people as they have switched to work-from-home, with the expectation that this will largely remain in place going forward.
Prices rise for single-family houses, barely tick up for condos.
The median price of all types of homes – meaning half sold for more and half sold for less – rose 3.5% from a year ago to $295,000.