Gold & Silver Seeker Report: This Week In Mining Issue #22 – Q2 Production Numbers, Gold & Silver Holding, Correction Coming?
Gold & Silver Seeker Report: This Week In Mining Issue #22 – Q2 Production Numbers, Gold & Silver Holding, Correction Coming?
Chief Mining Analyst, SilverSeek
With government imposing mandatory suspensions of non-essential business in some places around the world, the majority of the mining sector continues to operate uninterrupted with the exception of adhering to CV19 protocols. Meanwhile, the gold price continues to hold strong at or above $1,800/oz. and has been very buoyant after sell-offs. Additionally, silver seems to be confirming the breakout and the time is nearing where silver will outperform gold, as we've seen the start with a contracting gold-to-silver ratio. But beware and put together a shopping lists/put in stink bids for company's you may want to take a position in, should we see a sell-off before gold and silver move materially higher.
$AGI, $AUN.V, $BTG, $CGC.V, $EXK, $AG, $FSM, $GORO, $GCM.TO $KNT.V, $KGC, $KTN.V, $LGD.TO, $MUX, $NGD, $NUAG.V, $NSR.TO, $NEE.V, $OGC.TO, $OSK.TO, $SVM, $VGCX.TO $WM.TO, $WDO.TO, $AUY
Alamos Gold: Announced the Phase III expansion study at Island Gold, which will be the company's future cornerstone asset in Ontario, Canada. At the time Alamos acquired Richmont, it looked as if the company overpaid for the company but it is now looking like the Alamos executed a brilliant deal. Alamos has already increased output, lowered costs, and greatly expanded its reserve and resource base. Following the expansion, the operation will be of material scale, with cash costs in the lowest quartile on the industry cost curve, in a tier-I mining jurisdiction with plenty of exploration potential.
Per the Study, assuming a long-term gold price deck of $1,450/oz., the project yields an after-tax IRR of 17% and an NPV of $1.02b, which increases to $1.45b at $1,750/oz. Au. The mine life will double to 16yrs [based on a mineable resource of 3.2m oz. Au @ 10.45 g/t]. Average annual production will increase by 60%+ to 236k oz. and cash costs and AISC will fall 19% and 30% (vs. the mid-point of 2020 guidance) to $403/oz. and $534/oz. beginning in 2025. The mine life could be extended given the exploration potential.
The company evaluated five different scenarios for the Phase III expansion, with the company deciding the best use of capital is a shaft expansion to 2ktpd [currently a ramp @ 1.2ktpd] and the addition of a paste plant. This will require various infrastructure investments totaling $500m [installation of a shaft, paste plant, and an expansion of the mill and tailings facility]. Following the completion of the shaft construction in 2025, the operation will transition from trucking ore and waste to skipping ore and waste to surface through the new shaft.
Alamos is positioned for growth, not only with Island Gold but its Turkish development projects [construction has commenced on Kirazli as $32m of $152m of initial capital investment has been incurred but the company's concessions expired in late 2019 and it is working with the Turkish Department of Energy and Natural Resources on securing renewal]. It is likely the company will be building both projects at some point in the next couple of years. Following completion of these projects, the company plans to build out Lynn Lake.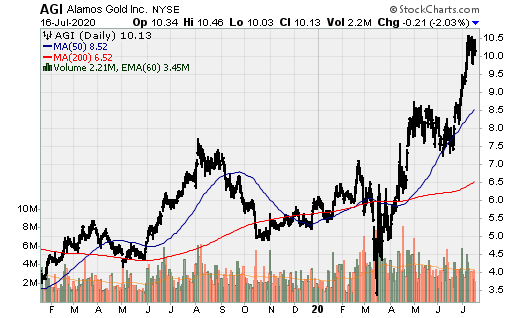 Aurcana: Announced a non-brokered private placement of up to C$10.5m by issuing 21m units at C$0.50/unit. Each unit will consist of one common share and one full common share purchase warrant, with each warrant entitling the holder thereof to purchase one common share at a purchase price of C$0.75 for a 3yr period. The proceeds will be focused on continuing to advance its Virginius Silver Mine in Colorado.