Silver's Days as the Poor Man's Gold Are Numbered
Silver's Days as the Poor Man's Gold Are Numbered by Tom Luongo for Money and Markets
One of the things that has been dogging the nearly two-year bull market in gold has been the lackluster performance of its brother-in-arms, silver. In 2019, when gold broke through the post-Brexit high near $1,375 per ounce, silver didn't come along for the ride.
The best silver could do was poke its head above $19 an ounce and then, seeing its shadow, run back into its burrow for another year. Its long winter wasn't quite over yet.
But that seems to be changing with silver's rally since March. It has been steadily gaining on gold and over the past two weeks, since the beginning of the third quarter, it has put in an impressive performance, finally showing the technical strength to warrant taking a look as an investor.
In fact, Money & Markets Chief Investment Strategist Adam O'Dell recently recommended a couple of silver plays as part of his Green Zone Fortunes service that are already up 16% to 22%.
He also has a few precious metal plays in addition to other top stock recommendations, and plenty more on the way. Click here to learn more about his strategy and how to subscribe to this reasonably priced premium research service that could help add tremendous returns to your portfolio.
Silver's Bullish Breakout
Last week's push to close above $18.50 (cash basis) was significant as silver made both a new intraday high for 2020, but then closed at its highest price so far this year at $18.795 an ounce(see chart below). That set up the follow-through action we've seen this week, with silver capturing $19, seemingly no longer afraid of it.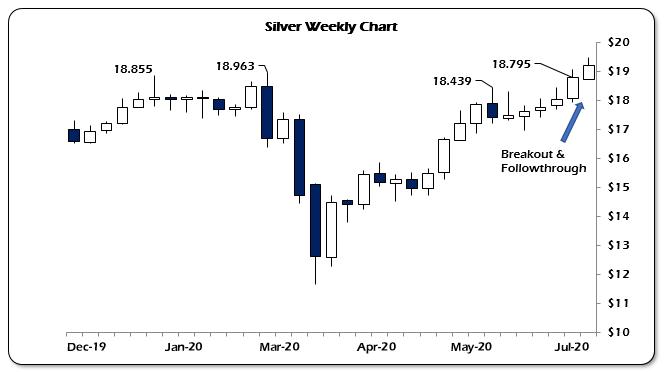 Holding at $19.20 for a few days this week means the bulls have the bears on the run. They are comfortable letting the bears set up shop at the next resistance level, waiting to force them to cover and retreat higher.
Coming back to what I opened with, the split behavior that's existed between the two metals highlighted the fundamental changes coming over their respective markets. Both gold and silver are no longer primarily monetary metals.