The Curious Story of the Miners' Breakdown
The Curious Story of the Miners' Breakdown by PRZEMYSŁAW RADOMSKI, CFA for Sunshine Profits
What we previously wrote about mining stocks' breakdown and yesterday's upswing, might seem like something that invalidates it or something that's just nonsense. In reality, it's one of the common patterns that we see after breakdowns – the price comes back to the previously broken level or line in order to check whether it's able to get back above it. If it's not, the breakdown holds, and it becomes verified. This increases the odds for decline's continuation. Conversely, if the move higher takes the price above the certain level or line, the breakdown becomes invalidated and the signal for the opposite side (here: bullish) is created.
What if both: verification and invalidation take place at the same time? This can't happen with regard to the same line, but if a given line or level is considered based on different perspectives or different prices (intraday, daily closes, weekly closes, monthly closes, quarterly closes), the "same" line might actually be slightly different. Which indication should one trust more in this case?
Of course, there are no certainties in any market, but in general, the more long-term-oriented a picture is, the more important the signals coming from it. Consequently, ceteris paribus (all other things being equal), the more long-term-oriented indications are likely more important.
With the above in mind, let's take a look at what happened in the gold and silver stocks yesterday.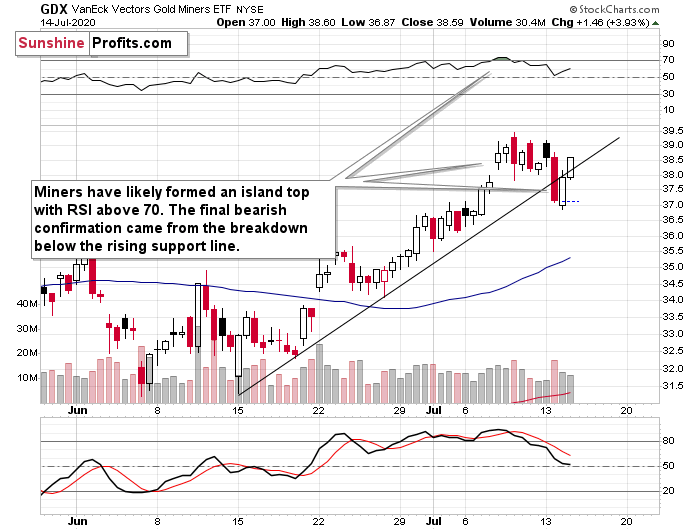 The GDX ETF invalidated its breakdown below the rising intraday support line, which could be viewed as a bullish sign, but…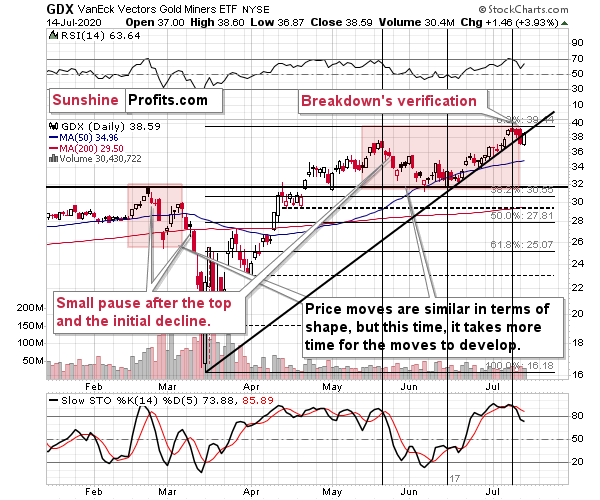 GDX's daily chart (which is twice as long-term as daily candlesticks include two 4-hour candlesticks from the previous chart) shows that the line that's based on more long-term price extremes actually held. This means that the breakdown wasn't invalidated – it's being verified.
The above chart also shows that a pause and a small comeback is relatively normal after the major tops and initial declines. Please note what happened after the February top, after the March top, and after the May top. The same thing – a daily pause. This perfectly fits yesterday's comeback to the previously broken rising support line, which now turned into resistance.
Thank you for reading today's free analysis. Its full version – today's Gold & Silver Trading Alert includes also analysis of what happened in gold and how it relates to the critical developments in the USD Index. We invite you to subscribe and read today's issue right away.
Sincerely,
Przemyslaw Radomski, CFA
Editor-in-chief, Gold & Silver Fund Manager