Gold & Silver Seeker Report: This Week in Mining Issue #21 – Financing's Galore, Early Q2 Production Numbers, and Gold Holding Strong
Gold & Silver Seeker Report: This Week in Mining Issue #21 – Financing's Galore, Early Q2 Production Numbers, and Gold Holding Strong
Chief Mining Analyst, SilverSeek
Major news in mining this week was the large number of announced and completed equity financing's. Eric Sprott was involved in many of these. Gold and silver had another strong week but a consolidation period can happen at any time. It isn't uncommon see retrenchments of 15-25% [in the mining equities], which could happen tomorrow or several months down the line but it will happen. Time will tell. Gold and Silver have massive tailwinds and there are countless potential catalysts in the second half of this year alone.
Aside from those financing's mentioned below, the following are other financing's announced: HighGold Mining announced an $8m bought deal private placement. Euro Manganese announced a $3.85m private placement. Decade Resources announced $1.2m over-subscribed private placement, with Eric Sprott to purchase 10m units. Allegiant Gold announced the closing of a $3m non-brokered private placement and Cabral Gold announced second closing of over-subscribed private placement. Filo Mining Corp announced a $20m financing and Rupert Resources announced equity financing totaling $22.3m. Eclipse Gold announced the closing of a $12m bought deal public offering. Banyan Gold announced a $4.3m financing, Spanish Mountain up-sized its private placement to $4m, and Brigadier Gold announced a $2.5m non-brokered private placement. Idaho Champion, Strikepoint Gold, Grande announced private placements of $3.5m, $1.955, and $3.15m, with the latter two being led by Eric Sprott. Mountain Boy Minerals and Teuton Resources also completed financing's, with Eric Sprott taking 4m units and 2m shares.
$AGI, $AR.TO, $CGC.V, $ALLXF, $CXB.TO, $DPM.TO, $EMX, $EGO, $EDV.TO, $EDVMF, $EXK, $ERD.TO, $F.V, $FVL.TO, $FGOVF, $GBR.V, $GPL, $GRSL.V, $GRSLF, $JAG.TO, $KNT.V, $KL, $LUG.TO, $BMK.V, $NSR.TO, $RGLD, $ROXG.TO, $SAND, $SVE.V, $TXG.TO, $TML.TO, $TUD.V, $VGCX.TO, $VITFF, $VZLA.V, $WDO.TO
Alamos Gold: Announced it completed the lower mine expansion at its long-lived cornerstone asset, Young-Davidson in Canada. The company is in the process of transitioning from a period of high-capital investment to one where the company generates material free cash flow. In addition to higher-output and lower costs at Young-Davidson, low-cost production from Island Gold [and a Phase III expansion expected soon and elimination of 3% NSR royalty], recommencement of production from Mulatos [the 5% NSR royalty has ceased] and higher gold prices, will drive cash flow higher in the near-term. The company is waiting for its next growth project to get the go ahead, Kirazli, as $32m of the estimated $152m capital investment already spent. This is on hold for the time being as it is awaiting the renewal of concessions to restart construction. Alamos is working with Turkish department of energy and natural resources on securing renewal. Kirazli, when in production, will increase production by 100k oz. and have costs in the lowest 10% on the industry cost curve with AISC of $373/oz.
This will be followed by the Lynn Lake project in Canada [with a construction decision expected in 2022], which using a $1750/oz. gold price, has an IRR and NPV of approx. 30% and >$400m on avg. production of 170k oz. Au with AISC of $745/oz. Alamos could set itself up to become a senior producer [>=1m oz. p.a.] by 2023/2024 should it acquire an asset like Brucejack. Alamos trades with a premium NAV multiple relative to its size due to its cornerstone assets and a development project being in Canada.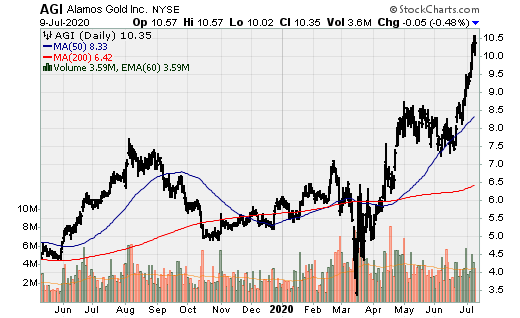 Argonaut Gold: Q2 production totaled 31.5k AuEq oz. and increased its cash position $23m. The company also updated guidance, incorporating the addition of Alio Gold's Florida Canyon mine. The company is now expected to produce 210-230k AuEq oz. and anticipates generating $62-$87m of free cash flow in 2020 [assuming a $1,700/oz. gold price]. In Q2, Argonaut's existing Mexican operations generated $23m in free cash flow. The company ended the quarter with $65m in cash and $7m drawn on its revolving credit facility. The company also announced a C$110m bought deal financing. The funds will be used to advance the company's Magino project.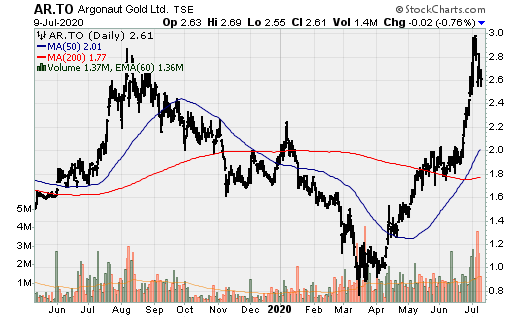 Caldas Gold: The company announced the results of the Pre-feasibility study (PFS) for the expansion of its Marmato project in Colombia. The PFS is similar to the PEA but production in during the peak years will be higher. In all likelihood, because both the upper mine and MDZ have significant exploration upside, production during the peak years will likely last a longer period of time. There is also material upside assuming the company can upgrade M&I and Inferred resources to reserves, which total 6.2m oz. contained, up from 5.35m oz. from the 2019 resource estimate. The current LOM plan is based on reserves of 2m oz. Au, and it is reasonable to expect both increased production and mine life extension.