Unemployment Claims Hit New Record: 32.9 Million State & Federal. Week 16 of U.S. Labor Market Collapse
Unemployment Claims Hit New Record: 32.9 Million State & Federal. Week 16 of U.S. Labor Market Collapse
Claims by gig workers under federal PUA program soar, now 44% of total unemployment claims. Where's the "V-Shaped" recovery of the labor market?
By Wolf Richter for WOLF STREET.
The data chaos persists, and the unemployment numbers keep getting worse. The torrent of newly unemployed keeps flowing week after week. But a lot of people are also going back to work. The total number of people who continued to claim unemployment compensation in the week ended July 4 under all state and federal unemployment insurance programs, including gig workers, jumped by 1.41 million people, to 32.92 million (not seasonally adjusted), the Department of Labor reported this morning. It was the highest and most gut-wrenching level ever.
The number of people who continue to receive state unemployment insurance (blue columns) has been ticking down, as more people got their jobs back than newly unemployed flooded the state unemployment systems. But the number of people claiming federal unemployment insurance, including gig workers under the Pandemic Unemployment Assistance (PUA) program, continues to surge (red columns), which causes the total number of people claiming unemployment benefits under all programs to rise: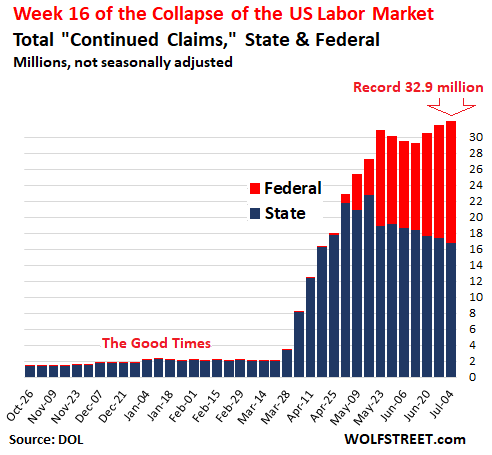 Unemployment insurance under state programs.
The number of people who were newly laid off and filed their initial unemployment claims with state unemployment offices in the week ended July 4 ticked down to 1.4 million (not seasonally adjusted). This is still a huge number of people filing new unemployment claims – and nearly twice the peak of the unemployment crisis in 2009 – but it's the lowest number since this crisis erupted.
Those declines in initial claims have been painfully slow over the past four weeks. Over those four weeks combined, 5.75 million newly-laid-off people filed initial unemployment claims. The chart represents the
weekly inflow of newly unemployed
under state programs into the masses of the unemployed: