Top Men at Justice Department with Final Say on Goldman Sachs Felony Charges Got Big Payouts from Kirkland & Ellis – Goldman's Law Firm
Top Men at Justice Department with Final Say on Goldman Sachs Felony Charges Got Big Payouts from Kirkland & Ellis – Goldman's Law Firm By Pam Martens and Russ Martens for Wall Street on Parade
Three of the top men at the U.S. Department of Justice who have been involved in negotiations as to whether Goldman Sachs, for the first time in its history, will be charged with a criminal felony and hit with a multi-billion dollar fine, received large sums of money from the law firm, Kirkland & Ellis, before joining the Trump administration.  Kirkland & Ellis is the law firm defending Goldman Sachs in the criminal case.
The top dog at the Justice Department, Attorney General William Barr, worked as "Of Counsel" to Kirkland & Ellis prior to joining the Justice Department. Barr's financial disclosure form shows that Kirkland & Ellis paid him $1,188,257 and a $50,000 bonus for 2018. In addition to the money from Kirkland & Ellis, Barr made another $2.6 million in fees and from cashing out stock options for his work as a member of the Boards of Directors at Dominion Energy, Time Warner, and Och-Ziff Capital Management, a hedge fund that paid a $213 million criminal fine in 2016 to settle charges with the Justice Department that it had engaged in "a widespread scheme involving the bribery of officials in the Democratic Republic of Congo (DRC) and Libya." (Och-Ziff Capital Management has subsequently rebranded itself as Sculptor Capital.)
Brian Benczkowski, who stepped down last Friday as head of the Criminal Division of the Justice Department, indicates on his financial disclosure form that he received a salary and bonus from Kirkland & Ellis of $847,500. Benczkowski joined the Justice Department in July 2018 and had worked at Kirkland & Ellis since 2010.
Both Barr and Benczkowski state in their financial disclosure forms that they would continue to participate in the Kirkland & Ellis Defined Contribution Plan but that the law firm would no longer make contributions on their behalf to the plan.
The Financial Times reported in April 2019 that both Barr and Benczkowski had received ethics waivers to participate in the Goldman Sachs criminal case, despite their recent ties to the law firm representing Goldman Sachs.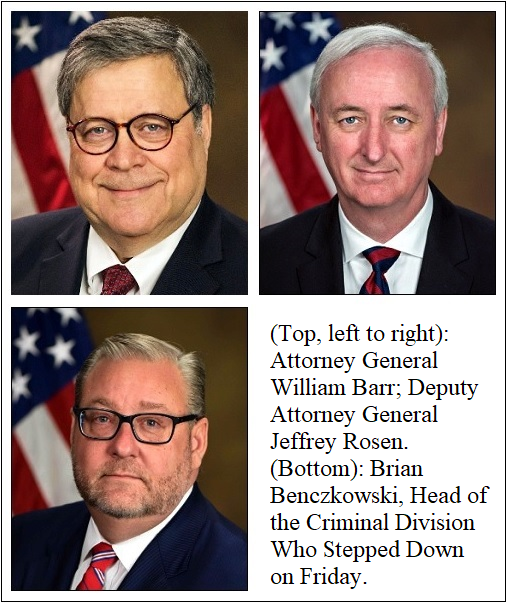 Benczkowski's job as head of the Criminal Division is to be filled by his Deputy,  Brian Rabbitt, a Trump loyalist who came to the administration from the corporate law firm, Williams & Connolly, where he specialized in government investigations. Rabbitt has hopped through jobs as a White House lawyer, policy advisor to SEC Chair Jay Clayton, and then as Chief of Staff to Barr before becoming Rosen's Deputy. Rabbitt has no background to suggest that he is qualified to oversee a department of 600 criminal prosecutors.
On June 11, the New York Times reported that lawyers for Goldman Sachs "have asked Deputy Attorney General Jeffrey Rosen to review demands by some federal prosecutors that Goldman pay more than $2 billion in fines and plead guilty to a felony charge, according to three people briefed on the matter."