A Word About that Historic Bounce in US Services PMIs: No, the Service Sector Didn't Hit New Highs. It Stopped Plunging
A Word About that Historic Bounce in US Services PMIs: No, the Service Sector Didn't Hit New Highs. It Stopped Plunging
One Purchasing Managers Index said services fell further in June, but more slowly; the other said activity started climbing out of the hole. Both agree: Jobs dropped further.
By Wolf Richter for WOLF STREET.
Two US services Purchasing Managers Indexes (PMIs) were released this morning: The broader non-manufacturing PMI by the Institute of Supply Management, which includes industries that are not typically classified as services – such as agriculture, mining (also oil and gas) and construction – and the Services PMI by IHS-Markit, which is concentrated on the major service sectors. Services are dominated by finance & insurance, healthcare, and information/technology. In the US, services account for roughly 70% of the economy. And the data this morning showed majestic bounces.
But what do these bounces mean?
Not what some of the headlines said. PMIs are peculiar creatures. They don't measure activity in dollars. The surveys ask executives how various aspects of their business changed in the current month compared to the prior month: up, down, or no change. There are no dollars or other quantity measures involved.
The PMIs this morning reflect how these aspects changed in June compared to May: up, down, or no change:
PMI value of 50 = no change, same as May; it stopped getting worse.
PMI value below 50 = further contraction from May levels; it still got worse.
PMI value above 50 = expansion from May levels; it got better but it says nothing about how much further service activity as measured in dollars has to expand before getting back to where it was.
IHS Markit US Services PMI
"June PMI data signaled a notably softer rate of contraction in business activity across the U.S. service sector as many companies began to reopen following the easing of coronavirus disease 2019 (COVID-19) restrictions," the IHS Markit Services PMI report said, whose PMI value bounced to 47.9 in June – meaning, still in contraction, and still getting worse from May, but at a "softer rate."
"The marked easing in the rate of output contraction was in part linked to the reopening of service providers and the gradual return of customer demand. The pace of decline was the slowest in the current four-month sequence of decline," the report said.
So according to this PMI, the service sector may have hit bottom in June. If the July PMI value (to be released a month from now) comes in at above 50, this PMI is saying that the services sector hit bottom in June. If it stays below 50, the moment of hitting bottom and the start of climbing out of the hole will be moved out to at least July: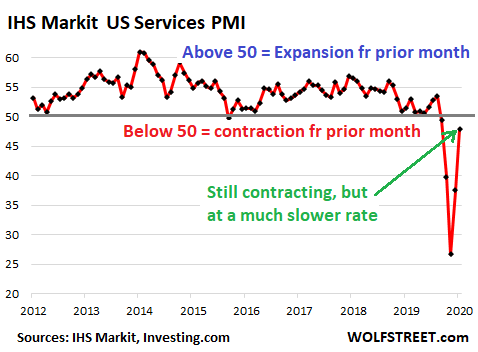 The Institute of Supply Management's Non-Manufacturing PMI.
The "Non-Manufacturing ISM Report on Business" bounced to an overall PMI value of 57.1, which means growth in June from historic low activity levels in May and April. So according to this PMI, bottom was hit in May; and in June, the climb out of the hole has begun.