Fed warns of catastrophic impact of second wave on US banks
Fed warns of catastrophic impact of second wave on US banks by Michael Pinson, for Bullion By Post
The United States Federal Reserve Board (FRB) has published the results of its supervisory-run Dodd-Frank Act Stress Test for the United States' largest banks. As a result, a number of restrictions have been placed on US banks to try and ensure they have the capital to survive the current financial crisis.
The stress test is a simulation designed to determine the ability of 34 US banks, each with more than $100 billion in total consolidated assets, to deal with an economic crisis. Today Covid-19 is that financial crisis. Goldman Sachs Group and Morgan Stanley were hit the worst under the hypothetical adverse scenario.
They warned that loan losses could reach $700 billion across the 34 banks, and that while some had strong capital to protect them against such losses, several banks would be at risk of hitting minimum capital levels.
Of note, the stress tests did not incorporate any anticipation of further stimulus measures, or government spending. It also worked primarily on the idea of a V-shaped recovery, which would see the economy bounce-back from recession fairly quickly to pre-Covid levels; a recovery considered by many to be unlikely.
The US has recorded 2.4 million confirmed coronavirus infections and 122,370 deaths, though experts have warned that poor testing numbers means this is likely much higher in truth. There are worrying signs that numbers are only growing in America, with a number of states recording record numbers of cases, and re-imposing restrictions just a few weeks after opening.
.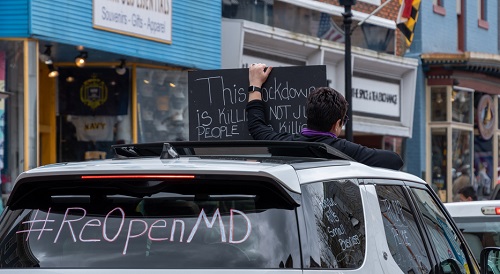 .
States like Texas have seen daily cases rising to 5,000 a day, and attempts to impose restrictions have resulted in protests, as seen in the image above. With efforts to bring numbers down failing, there will likely be further economic damage for the US throughout 2020.
Should this continue there are obvious concerns about the strength of America's banking institutions, and its ability to deal with the situation. The failure of the banking world in the 2008 crisis is far from forgotten.