Gold SWOT: Russia's Gold Output Rose 5 Percent in First Quarter
Gold SWOT: Russia's Gold Output Rose 5 Percent in First Quarter By: Frank E. Holmes, Chairman/CEO/CIO of U.S. Global Investors, Inc., for Gold Seek
Strengths
The best performing precious metal for the week was gold, up 1.57 percent. Gold is heading toward $1,800 an ounce driven by fear that the resurgence in virus cases will impede the global economic recovery. Gold for August delivery rose to $1,796.10 on the Comex on Monday – the highest level since 2012. The yellow metal saw a third straight weekly gain, which is its longest winning streak since January. According to Bloomberg data, gold-backed ETFs saw a fourteenth week of net inflows.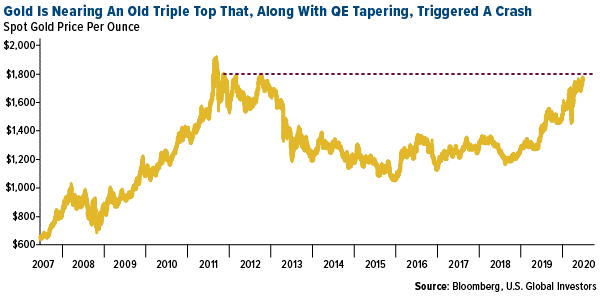 The Union of Gold Producers of Russia said in a statement this week that Russian gold output in the first quarter rose more than 5 percent to 64.6 tons from a year earlier. The increase was due to a ramp up in production by smaller miners.
Bloomberg's Eddie van der Walt is very bullish on gold. "A mix of slow growth, easy money and black swans can propel gold to record highs in the second half of 2020." Gold is one of the best performing major assets in the past year and has soared by a quarter.
Weaknesses
The worst performing precious metal for the week was palladium, down 1.57 percent on the net-long position of palladium futures dropping to a three-week low. Perhaps the move came on speculation that automobile sales could contract short-term with virus outbreaks in the U.S. beginning to dominate headlines. After rising to nearly $1,800 an ounce early this week, gold struggled to hold onto its gains. U.S. inflation rose higher-than-expected on Friday. The core personal consumption expenditures index rose 0.1 percent in May, up from the 0.4 percent decline in April.
Barrick Niugini, the operators of the Porgera gold mine in Papua New Guinea said in a statement that most of its 2,650 workforce will be retrenched in the coming weeks. The mine was put on care-and-maintenance after the government decided not to extend its special lease. Bloomberg notes the mine is a joint venture between Barrick and Zijin Mining.
The U.S. dollar rose on Friday as investors look for safe havens amid troubling news that coronavirus cases are surging in America. There are also doubts that a V-shaped economic recovery is far from possible. Gold and the dollar don't often move in the same direction, and a rise in the dollar could mean a fall for gold.
Opportunities
Roxgold announced that its drill program at the Seguela project returned 20 meters at 28 grams per ton of gold. Tanzanian Gold Corp was up 6.3 percent in U.S. pre-market trading on Wednesday due to an increase in resources at its Buckreef gold project in Tanzania. Alexco Resource Corp announced that it is moving forward with the final development of its mines at Keno Hill and amended its silver purchase streaming agreement with Wheaton Precious Metals.
RBC said it remains constructive on gold mining stocks. The bank upgraded Centamin Plc to outperform and have kept Polymetal and AngloGold both at outperform. Analysts led by James Bell wrote that the macro backdrop for gold remains supportive at a time when companies have been conservative in their outlooks.
Harmony Gold Mining, South Africa's top gold miner, raised $200 million through a share sale after investors backed its plan to purchase AngloGold Ashanti's last South African operations, reports Bloomberg. CEO Peter Steenkamp said, "the successful placement is a validation of our investors' support for Harmony's stated strategy to safely grow quality ounces and increase margins."
Threats
Capital Economics is sticking to its somewhat bearish outlook for gold. The firm projects the yellow metal to ease back for the rest of 2020 due to weak physical demand out of Asia, reports Kitco News. Chief commodities economist at Capital Economics Caroline Bain said, "although ultra-low real yields and a somewhat weaker U.S. dollar will keep the gold price elevated, safe-haven demand will be more subdued as economic activity picks up."
Coronavirus cases are spiking globally, especially in the U.S. and Latin America. Chile, a top miner, has now seen nearly 260,000 cases. This could lead to mining operations being shut down again and slowing production, particularly for copper.
According to Black Knight Inc., the number of home-mortgages more than 30 days late rose to 4.3 million in May, up from 723,000 in April. More than 8 percent of all U.S. mortgages were past due or in foreclose last month, notes Bloomberg. This is a staggering sign of the economic downturn inflicted by the pandemic.