Beijing's Mystery Security Law Will Be a Giant Tell about Hong Kong's Future
Beijing's Mystery Security Law Will Be a Giant Tell about Hong Kong's Future
Sense of Foreboding in Hong Kong. Beijing's black-box approach doesn't bode well for local freedoms.
By Chris Oliver, Hong Kong, former business editor at SCMP. For WOLF STREET:
Hongkongers woke earlier this week to a timeline for a new national security law written in Beijing that sets out a handful of days before the legislation is passed. The troubling thing is that few know what's actually inside the new law.
The controversial bill – widely regarded as already fixed in stone – is expected to be completed during the three-day session of the National People's Congress Standing Committee which gets underway on Sunday, according to local newspaper reports citing mainland sources. One theory is that the bill will be passed on Tuesday, June 30, the eve of the 23rd anniversary of the handover that ended 156 years of British colonial rule. When the law will be enacted is not known, but sometime during either July or August looks likely (photo by Chris Oliver).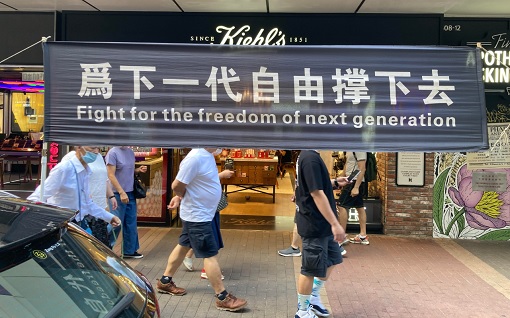 If the new law is passed next week as expected, it would mark about a month since its unveiling in late May – a blistering pace for a national law, especially one affecting Hong Kong, a city known for its low crime rate and social stability.
Hongkongers can be forgiven for feeling a sense of foreboding, thanks to the Kafkaesque manner in which the new law is taking shape. Few in the city have seen a copy of the bill drafted in Beijing, not even Hong Kong's leader Carrie Lam, or the Secretary for Justice Teresa Cheng, although both have urged the city's 7.45 million residents to support it.
In the five weeks since Beijing's announcement, Ms Lam and her fellow cabinet members have been scrambling to spin the proposed law in a positive light, saying it will help to restore stability after a year of political unrest. Large outdoor billboards with messages of support for the proposed law have also popped up around the city.
In spite of the PR campaign, Beijing looks set to keep the full contents of the bill under wraps until it has passed. One mainland legal scholar says the lack of consultation could mean that Beijing is running afoul of its own legal code that requires the government to seek public input on important legislation.
Another risk: Steamrolling the new law without consultation could derail Beijing's attempts to bolster a sense of national pride among Hong Kong residents.
"Without this [national security law] being seen and soliciting comment, especially among dissenting voices, you are going to have difficulty implementing the law. You are going to lack credibility," Bing Ling, associate director, Centre for Asian and Pacific Law, Law School of University of Sydney told RTHK.
Beijing's push for the national security law comes roughly a year after Hong Kong was rocked by mass demonstrations against a proposed extradition treaty that would have allowed the exchange of suspected criminals with the mainland (none exists currently). The legislation, put forward by Hong Kong's administration, was eventually withdrawn.