Stock market volatility continues as America enters recession
Stock market volatility continues as America enters recession by Michael Pinson, for Bullion by Post
Fears of a second wave of Covid-19 have caused four days of successive falls in UK stock markets, followed by a slight rebound today. Oil prices have also tumbled again as the demand slump continues due to the ongoing lockdowns and restrictions.
For the three major Wall Street stock indexes Wednesday and Thursday saw the worst performance since mid-March. This was when leading economies first went into lockdown to prevent the virus spread and caused stock markets around the world to crash.
Despite this, Eli Lee, head of investment strategy at the Bank of Singapore, told Reuters 'It seems unlikely in our view that the equity market could revisit the levels of the March bottom, which were reflecting far greater levels of uncertainties.'
Other commentators believe that the earlier stock market rallies may have been fuelled by premature hopes in seeing an end to this financial crisis.
Gold bullion, having dropped slightly on the back of the rallying markets, has gained £60 per ounce this week (+3.4%) as institutions like the World Bank warn of the severity of the recession expected for the global economy.
.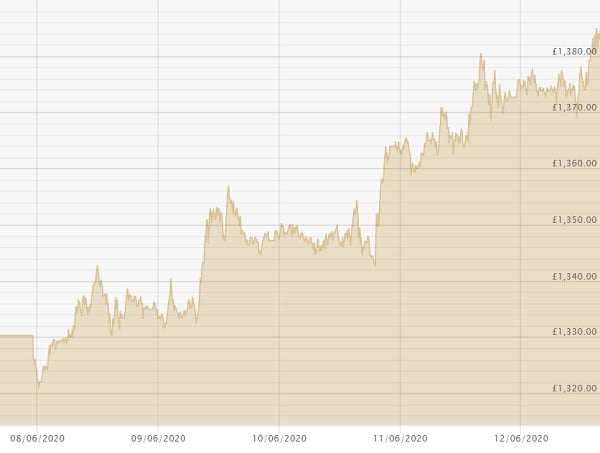 The price of gold in GBP this week.
The National Bureau of Economic Research in America officially designated the country in recession on Tuesday (9th), something which seemed unthinkable for the powerhouse economy just one year ago. This marked the end of 10 years of economic expansion for the US and was followed by further warnings from Chairman of the Federal Reserve, Jerome Powell, on Wednesday (10th) sparking the sell off.
Powell stated that he expects the US economy to shrink 6.5% in 2020, with unemployment reaching 9.3% this year. Unemployment has been one of the stark examples of the economic impact of the pandemic in the US; over 44 million people, a quarter of the nation's workforce, have so far applied for jobless benefits since the pandemic hit the US.