Michael Pento: "Central Banks Have Jumped the Shark," May Even Buy Stocks (Podcast)
Michael Pento: "Central Banks Have Jumped the Shark," May Even Buy Stocks Podcast by Mike Gleason for Money Metals
Well now, without further delay, let's get right to this week's exclusive interview.
Mike Gleason: It is my privilege now to welcome back Michael Pento president and founder of Pento Portfolio Services. Michael is a well-known money manager, market commentator, and author of the book, The Coming Bond Market Collapse: How to Survive the Demise of the U.S. Debt Market. He's been a regular guest with us over the years, and it's always a pleasure to have him on with us.
Michael, thanks for the time again today and welcome back.
Michael Pento: Thank you so much for having me back on Mike.
Mike Gleason: Well, Michael, it's been a few months since we've had you on last and just a little bit has been going on in the world. COVID-19 has hit the states to say the least and caused major disruptions in the economy. Governors have instituted stay-home orders. Tens of millions of people have filed for unemployment. Now we're seeing major rioting and social unrest in many cities throughout the country over the police killing of a black man in Minnesota last week.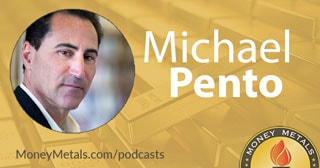 And in the face of all that, the markets are seemingly doing just fine. Stocks are still rallying and it doesn't seem like Wall Street is all that concerned about any of this. So, let's get your take on what's going on there, Michael, because it's pretty hard to connect the dots between Wall Street and Main Street these days. Help us out there.
Michael Pento: Yeah. So nothing is going on that much this year at all, right? It's been pretty boring. The divide between the rich and the poor, which was already humongous coming into this year has grown exponentially. And you have to ask yourself the question, gee, if GDP, according to the Atlanta Fed is going to drop in the second quarter by over 52%, that is a seasonally adjusted annual rate, Mike. GDP is going to be cut in more than half during the second quarter of 2020, how in God's name could it be possible that stocks are close to all-time record highs? And by evaluation metric at all-time record highs. There are about over 150% of GDP.