The Story Begins To Unfold – Floyd / Chauvin
The Story Begins To Unfold – Floyd / Chauvin by Rory for The Daily Coin
Not sure where this is going, but let it be known, it is going somewhere the puppet master doesn't want to see it go. The person interjecting the commentary hits on some very realistic points. There is a porno house that is close by and we have tried to get it investigated only to have our info, request fall on deaf ears and blind eyes. What were these two involved in? Why did the others watch as a murder unfolded right in front of them? Why was Chauvin trained by Israeli's in the art of murder by knee-on-the-neck technique – would this be part of the everyday police training in Minnesota? Seriously?
The short clip below opens the door to thousands of question, none of which would lead to anything positive, good or healthy. But all would quiet possibly point directly to why Floyd was murdered on the sidewalk with cops watching and people filming. Message being sent?
What is going on with Jesse Waters asking these questions, pointing the story in this direction? There is some meat on that bone and by this time tomorrow some of the sleuths out there should be able to dig something up. We'll keep you posted as this new chapter begins to unfold.
Watch👇🏽👇🏽👇🏽
.@JesseBWatters red pilling hard💥#QAnon #WWG1WGA #WWG1WGAWORLDWIDE #AntifaTerrorist https://t.co/gAl7BTjt6i

— Dancing Patriot (@PatriotDancing) June 3, 2020
Weird isn't it ??? pic.twitter.com/rahQuRmZm9

— Randy Lax (@RandyLax1) June 3, 2020
The next video is George Floyd's attorney on Face the Nation. The video is cued to begin at the description of Chauvin and Floyd working together at this night club / restaurant. They both worked their for years. It is possible that Chauvin worked their for 17 years. Why so long?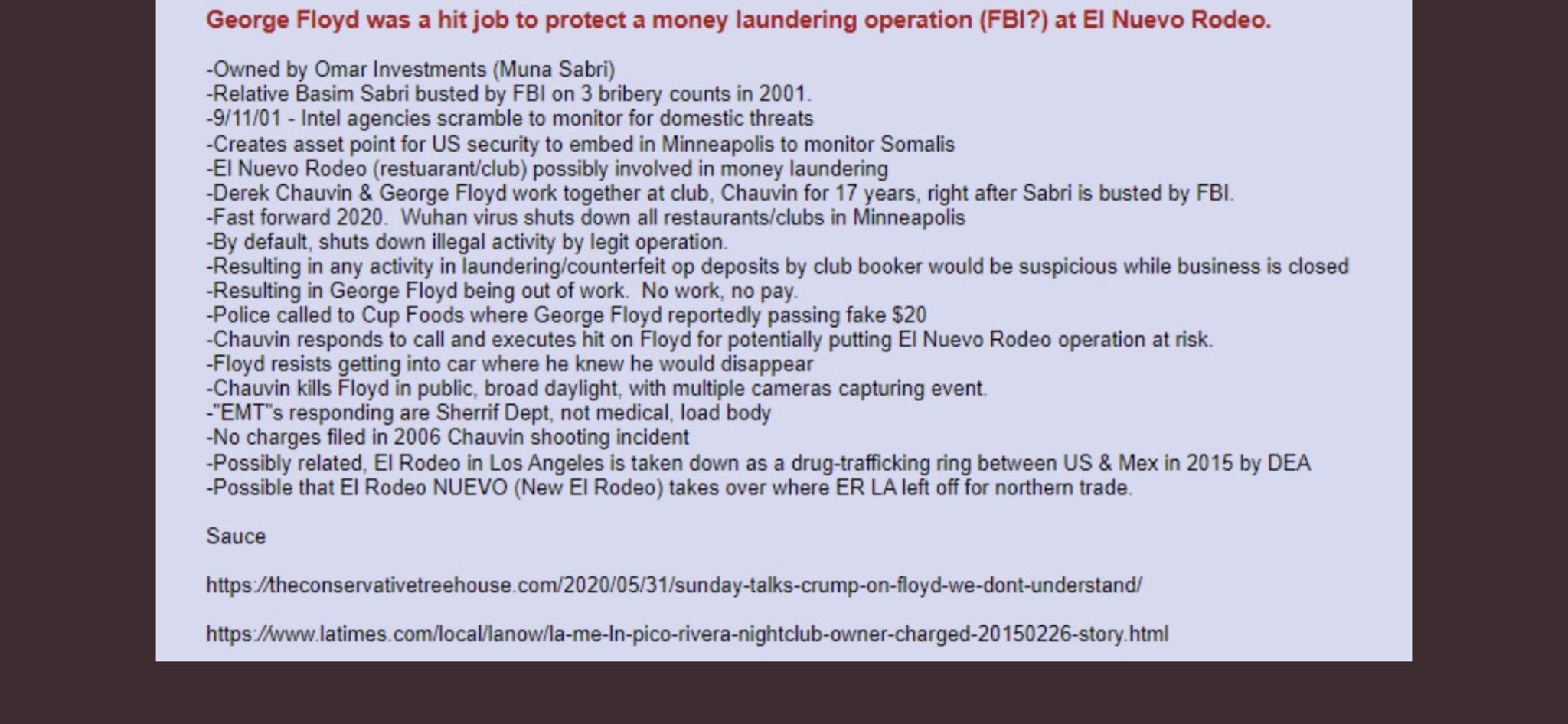 Attempting to tie some of these lines together – not sure how this is working but it seems to be one of the first pieces in the puzzle.
Omar Investments Inc. owns El Nuevo Rodeo Cantina and night club since 1996.  The principle of Omar Investments Inc. is Muna Sabri. In 2001 a close relative, Basim Sabri, was captured by the FBI in a sting operation.

…"In 2001, FBI agents recorded Sabri giving Herron $5,000, cash intended to curry the lawmaker's support for his development. Sabri was later convicted on three bribery counts and fined $75,000." (link)….


FBI intercept in 2001, there's the capture.  That's the asset creation point for U.S. security to find a way to embed within Minneapolis, and assist the Sabri's along the way.

****

ENR also looks like a money laundering operation.  Part of that laundry operation appears to involve counterfeit currency.  This enterprise, writ large, looks like the answer to 'how' a U.S. agency infiltrated the background criminal network in Minnesota to watch and monitor for domestic threats.  So there are layers to what is visible and a myriad of interests involved.

Officer Derek Chauvin is a 19-year veteran of the Mineapolis police dept.  Derek Chauvin also worked at ENR for 17 years.  That timeline puts Derek Chauvin showing up to work security at El Neuvo Rodeo cantina and club right after the FBI busts Basim Sabri (everyone remembers what intel agencies were doing right after 9-11-01). Source
It seems like this situation is about a to take turn that most were not expecting. It's beginning to look a lot like a sloppy hit and the bad actors that are all now being charged may be nothing more than fall guys to protect the operation. From this "first look" it appears that George Floyd may have done something he shouldn't have done, got caught and now all this has happened because he crossed the wrong people at the wrong time.