Money Supply Up; Gold Price Lacking Puff
Money Supply Up; Gold Price Lacking Puff By Mark Mead Baillie via Investing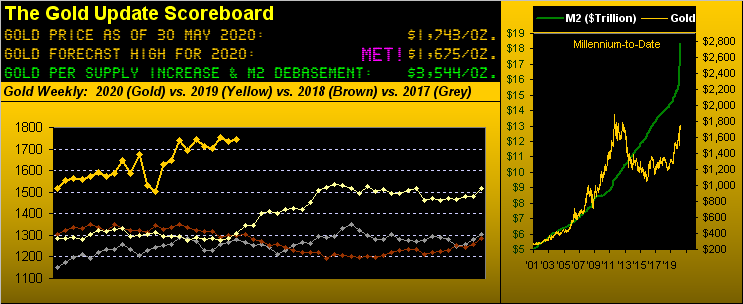 Gold just wrapped up its fifth trading month of 2020 in settling Friday at 1743, which by the "incoming" premium-heavy August contract was a weekly loss of 11 points and by the "outgoing" June contract was a loss of 4 points. But: because one trades by price (aka, "the truth") rather than by change (aka, "the illusion"), rolling (to avoid being committed to delivery) and rounding off from June's close a week ago of 1735 benevolently lands Gold with an eight-point gain. How grand a losing week can one have? However, Gold's first touch of the present 1743 this year was at the intra-day high better than seven weeks ago on 07 April, price's net change from then thus being zero ("0"). And yet in that relatively short time span, the U.S. money supply as measured by "M2" has increased 8.8% from $16.8 trillion right up through the $17 trillions to $18.4 trillion today. Go figure.
Indeed Gold's gain purely by premium was sufficient in allowing price to again briefly dip its toe into the Northern Front (1750-1800) for five hours during Friday before timidly pulling back as the S&P 500 raced to its highest close in nearly three months at 3044. Meanwhile, the year has unfolded through May without Gold winning a Northern Front foray. But shall what might be the beginning of a fourth attempt finally reverse the prior three failures? Not that you need be reminded, but here's the updated list in chronological order:
■ 06 April: Gold crosses above 1750 for three days in reaching the year-to-date high of 1789 before succumbing to 1662 come 21 April;
■ 23 April: Gold crosses above 1750 for two days before succumbing to 1676 come 01 May;
■ 15 May: Gold crosses above 1750 for five days before succumbing to 1684 come 27 May.
The good news is that each of those noted three lows to which Gold has succumbed has been higher than that previous. The bad — or better put sad — news would be to see Gold rise on fears of spreading anarchy here StateSide.
Either way, from this latest unruly state of affairs to the debasement of our Dollar shares, those who seriously study/analyze/trade and/or invest in Gold have been querying "Is this IT?" or have been outright declaring "This is IT!" … and yet whatever "IT" is conjured up to be hasn't really appeared a wit. From our purview, hardly has a week passed in 2020 wherein we've not written the phrase "massive overhead resistance" with technical respect to Gold's pricing structure. And each time that Gold fails in a bid to cross up through The Northern Front only adds to the strength of the resistance forces therein. "IT" may well be that Gold — like a chess knight — shall have to be picked up, say upon closing a session sub-1750, so as to effectively "jump over" The Northern Front by being placed back on the board at 1800 for the ensuing session's open. In fact: "Miss Gibbs? Could you kindly arrange for a meeting between the London Metals Exchange and a consortium of those sovereign and private banks with significant Gold holdings? Yes, Basel would be most appropriate. My usual two-room suite there at the Motel 6 would be fine, thank you." (Whatever it takes, eh?)
Whatever it takes to stay in first place is what we see here in the year-to-date BEGOS Markets Standings. And with five months in the books, the near-zero interest rate environment has kept the Bond's price ridin' "High, Wide and Handsome"–[Kern/Hammerstein II, '37]. But tucked in right there for second and third position are Gold and Silver. To be sure, Silver (finally) is on the move of late: as measured across the last 25 trading days since 24 April, the price of Gold is actually -0.2%, but Silver's is +20.4%, the Gold/Silver ratio in turn having dropped from 113.7x to (a still dastardly high) 94.3x today. Further, from the "Gold Plays No Currency Favourites Dept.", note as well the dollar's "strength": +2.3% may not seem like much, but for the last 24 years, that is the Buck's 10th-best January-though-May performance, (not to ruffle the feathers of the good folks over at the Schweizerische Nationalbank, their Franc barely über wasser at +0.2% year-to-date):