Larry Parks Reveals the REAL REASON Why The Government & FInancial Elite ABSOLUTELY HATE Gold (Podcast)
Larry Parks Reveals the REAL REASON Why The Government & FInancial Elite ABSOLUTELY HATE Gold Podcast by Mike Gleason for Money Metals
Not long ago, I spoke to Larry Parks of the Foundation for Monetary Education. For the past several decades, Larry has tirelessly advocated for sound money and freedom from governmental repression through a deliberate, ongoing campaign of inflation and currency debasement. This corrupt system has also led to widespread debt enslavement while impoverishing many savers and wage-earners across the globe.
We hope you'll enjoy this interview… and remember that when our liberty hangs in the balance, we must vigorously defend ourselves against those who would take away our freedoms, whether the threat be foreign OR domestic.
Mike Gleason: It is my privilege now to welcome in Lawrence Parks, founder and executive director of the Foundation of the Advancement of Monetary Education. Larry has dedicated much of his life towards the study and promotion of sound money, having author articles that have appeared numerous times in publications like The Economist, The Washington Times, National Review,and The Wall Street Journal just to name a few. He even hosts a weekly TV show that airs on cable networks in the Manhattan area called "The Larry Parks Show". He is given expert testimony in Washington to the United States Congress on monetary policy. He's a real champion for sound money, and it's great to have him on with us today.
Larry thanks for the time and welcome. It's good to talk to you.
Larry Parks: It's a pleasure. Thank you for hosting this.
Mike Gleason: Well Larry, to set the stage here briefly give us some background about the Foundation of the Advancement of Monetary Education and what motivated you to take the helm of the organization nearly 25 years ago, let's start there.
Larry Parks: I had been in the money management business and I had noticed along the way that I was getting severe distortions in the evaluation of the stocks that we used to cover. And I had known about the money issue, I had studied at one point with Murray Rothbard. And it wasn't my intention right from the very beginning to do this. I tried to get other charities, other think tanks, to pay attention to this and nobody would touch it. Turns out there's a good reason for that. Somebody suggested to me along the way "Why don't you do it?" And I ended up doing it.
When we got started, we had all of the work that Committee for Monetary Education and Research did. (They) had several hundred monographs, a couple of which were authored by me. We had all that digitized. The people at The Foundation for Economic Education, that was Harry Stendhal's at the time. They had all the work of Henry Hazlitt, I don't know if you remember that name.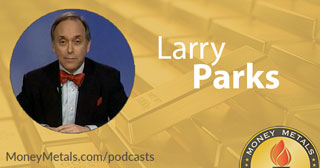 He was from The Times. He wrote a book called Common Sense Economics and stuff on gold, made all that stuff. I recruited 30 some odd board of advisers and board members, some of them had world-wide reputations, and we were off and running. And I thought that the gold space, especially the gold companies would sponsor our work but that never happened. It's very interesting how the people on the other side, on the paper money side were able to co-op just about everybody and promulgate this, what I call this imaginary fake money into society on a worldwide basis. It's just utterly remarkable they got away with this.
Mike Gleason: Now you've made the point that gold is the most important of all the commodities in the world, even more so than oil. Explain why you believe that to be the case if you would please?