Gold Price Forecast: A Significant Top Is Ahead
Gold Price Forecast: A Significant Top Is Ahead by Christopher Aaron for Gold-Eagle
Gold has been on a tear recently. The precious metal is up nearly $250 over the last three weeks following the unlimited quantitative easing (QE, a.k.a. money creation) plan announced by the Federal Reserve on March 23 in response to the Coronavirus pandemic. Gold is now back to levels not seen since 2012.
So what is in store for gold? Is now a good time to buy?
While those without any precious metals exposure whatsoever would be wise to establish a core holding as an insurance policy against unprecedented central bank monetary debasement, there are important warning signs appearing within the market which show us that precious metals may be due for a significant retracement of the recent gains. It is possible that the retracement may start following one final surge; however, our highest expectation remains that gold is due to give back at least several hundred dollars of its recent advance within the coming year. Investors should be careful about chasing recent price gains.
Gold Miners Do Not Believe It
Investors in the gold mining complex do not believe the recent price increase in gold itself.
Below we plot the GDX large cap gold mining fund on top, which contains an average valuation of 50 gold miners, followed by the price of gold itself immediately below. The chart shows data dating from the 2011 peak in gold at $1,923 per ounce through the present: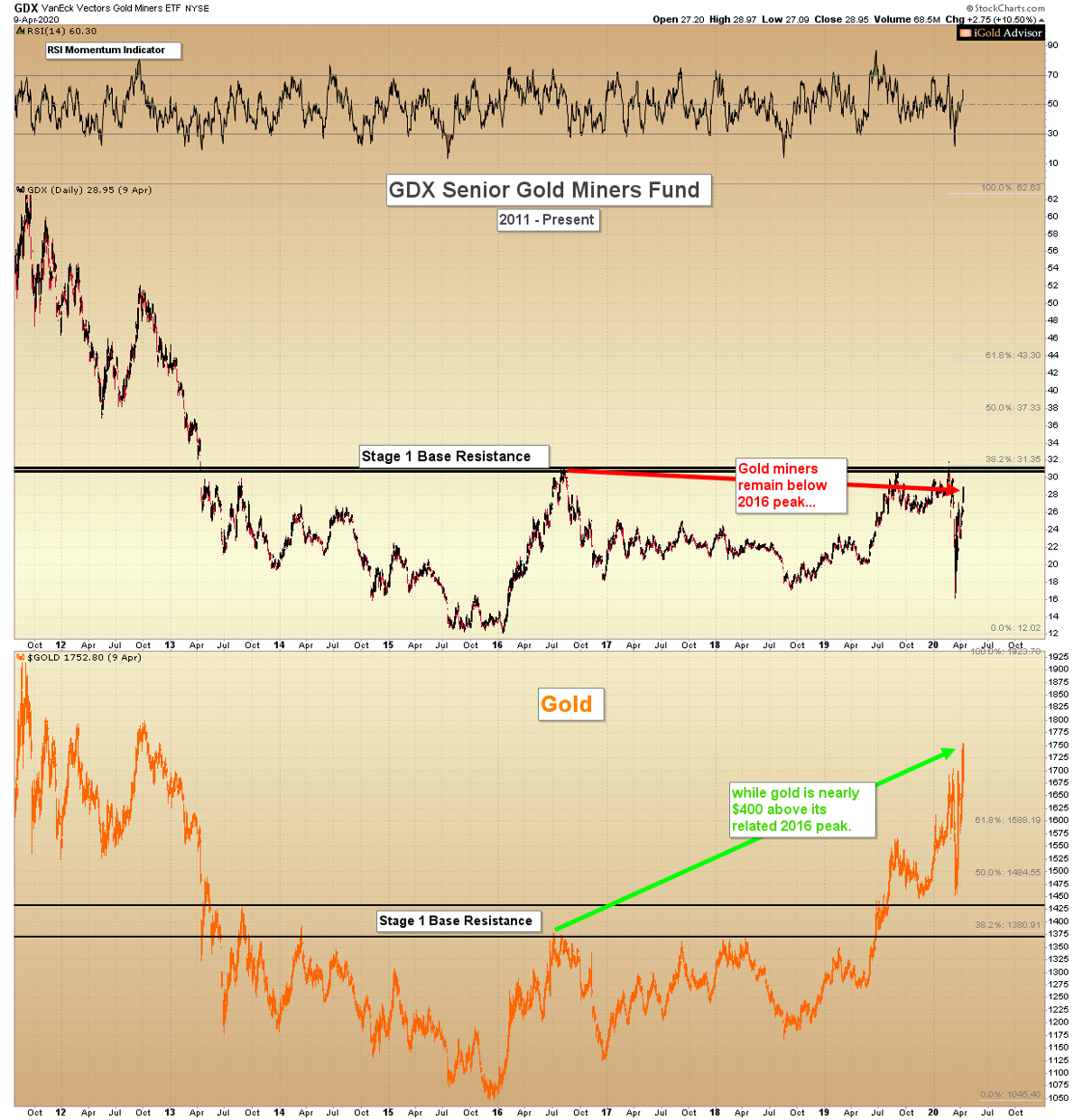 Note that the GDX gold miners fund, which closed the week just below 29.0, remains some 7% below its 2016 peak (red arrow).
Meanwhile, gold itself is nearly $400 above its related 2016 peak (green arrow).
This negative divergence shows that gold mining investors as a sum do not believe the current gold price will last.
What price are the gold miners expecting? Near $1,350, or nearly $400 below the present price.
This is an ominous negative divergence signal for the gold market.
The Last Time This Signal Appeared
Investors may be wondering: when was the last time that the gold mining complex lagged the actual gold price so severely? What impact did previous underperformance periods have on the metals market?
The last time in which the gold miners refused to move higher even as gold advanced was from 2010 – 2011. Let us rewind in our memories to view this period in detail.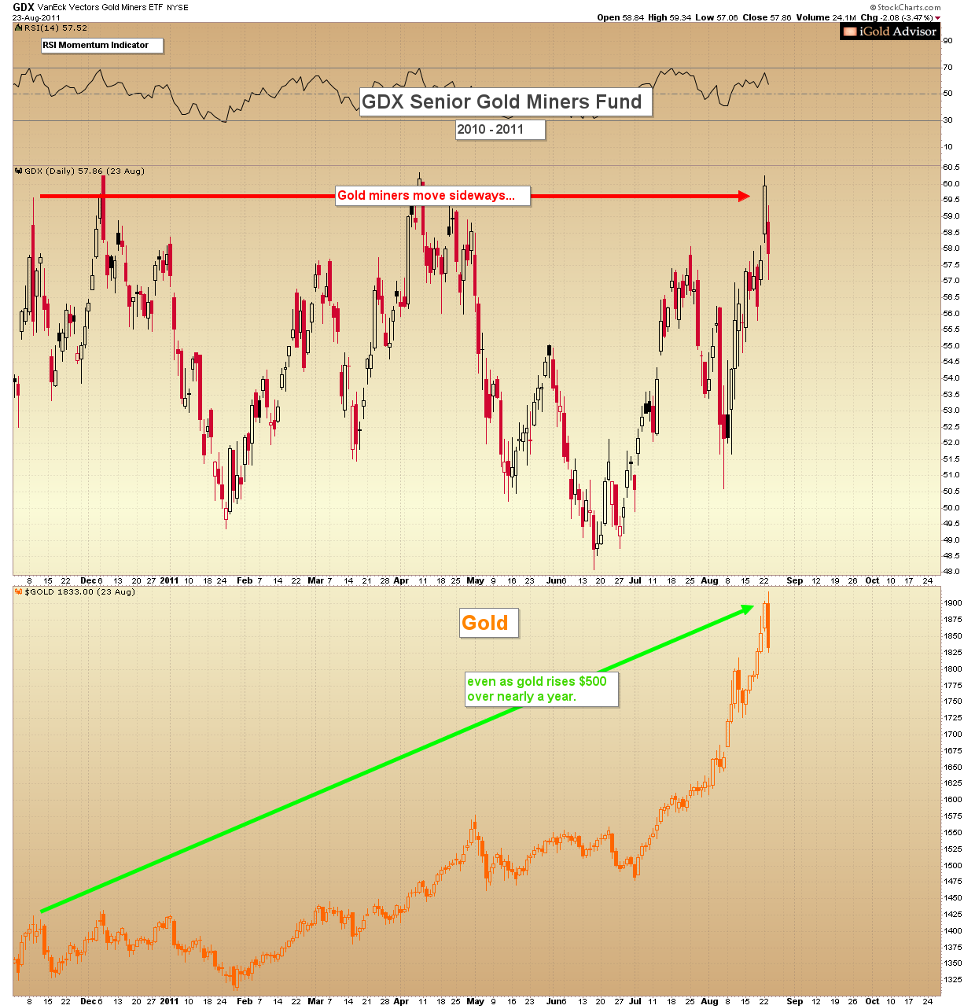 Let us rewind back to 2011 to recall what was occurring fundamentally:
The Federal Reserve was engaged in its second round of QE following the global financial crisis of 2008.
Global stock and commodity markets had begun to recover from their 2008 – 2009 lows.
The gold price had risen from $680 in the depths of the financial crisis to over $1,900 by 2011.
As we see above, throughout the entire 2010 – 2011 final advance in gold from $1,400 to $1,900, the gold mining complex refused to even budge. The miners did not advance even a single point higher even as gold itself advanced by nearly $500 toward its 2011 peak.
What was the result of this massive underperformance in the mining complex from 2010 – 2011? Were gold mining investors correct or incorrect in disbelieving gold's own advance?
Let us fast forward the above chart for another five years:
-->