'The End Of The Beginning'
'The End Of The Beginning' By Susan Duclos – All News PipeLine
Hospitals Running Out Of Body Bags, Funeral Homes Overrun By The Dead & Americans Preparing To Protect And Defend As The Looting And Crime Skyrockets
With the data from U.S. being compiled and added into the models for COVID-19 coronavirus, we see the welcome news that there will be less deaths than originally predicted by those models.
With that said, the term "less" is relative considering the death toll just in the U.S. is still running into the thousands, and expected run into the tens of thousands or more by the end, as the reports from Funeral Homes, and hospital workers show how overwhelmed the system has already become, even before the much-talked about "peak" is reached.
Our Leaders and Chief Medical Officers are Liars and Traitors (Video)
As Stefan Stanford reported on Thursday, "Dr. Janis Orlowski warns that what we're witnessing right now will likely be repeated again in November or December, just like the Spanish flu of 1918 – 1919 which came back with a deadly vengeance."
That possibility is made more likely as we see reports that the virus can become reactivated in patients thought to have been "cured,"as other reports tell us that in Wuhan, China, the first place COVID-19 started spreading, has lifted their lockdown after two months, and approximately 7,000 people flew out the first day.
Lets puts some of the numbers into perspective before highlighting how fast distribution chains can and now have been disrupted, how bodies start piling up, how the health system has become overwhelmed, and how once the "peak" has been reached, we will only be at the "end of the beginning" of this pandemic.
To understand the scope of the infections just here in America, consider the fact that in New York alone, there are more COVID-19 infections than in any other whole country.
FUNERAL HOMES OVERRUN WITH DEAD BODIES
Imagine not being able to bury your loved ones after they have passed because the Funeral Homes are jammed packed with dead bodies, having to stop services because the viewing rooms are being used to store those bodies until there is an "opening at the local crematorium," which are more than 10 days behind because of the influx of the recently departed.
That is happening in New York already.
On April 8, 2020, The New York Post reported on just that situation as New York City Funeral Homes describe just how overwhelmed they have been and how out-of-control and chaotic things have become.
"The last couple of weeks have been totally out of control," said Matthew Pinto, director of the Provenzano Lanza Funeral Home in Manhattan.

"On a normal day, our funeral home will do between one and two calls. Now we're doing eight or nine. Honestly, we're not equipped for it."

Joe Neufeld, director of the Gerard J. Neufeld funeral home just five blocks from the city's COVID-19 hotspot at Elmhurst Hospital, said he went from holding about 14 funerals a week to more than 50 last week alone.

He stopped having the services because his viewing room is now filled with remains.

"We had no choice," he said. "I've had families call me telling me they can't find anyone to take their loved one."

"I have 25 remains in my back room and most of them are COVID cases," Neufeld said. "I couldn't bring people in because it could be dangerous. I just don't know."

In an open letter to Gov. Andrew Cuomo this week, the National Funeral Directors Association pleaded with the governor to sign an executive order authorizing temporary licensing for out-of-state-funeral directors to come in to help.
In that letter, the NFDA offers the services of hundreds of volunteer funeral directors to deploy to New York to "help ensure the dead are buried with dignity."
Other reports quote a funeral director as saying "I thought I would never see that many body bags in my life."
New York City is also burying unclaimed bodies in NYC's Hart Island, and while that is not an uncommon practice, since the COVID-19 pandemic hit, they have gone from burying 25 bodies once a week to dozens of burials, each day five days a week.
Typically, inmates are paid a small amount to bury bodies on the island. However, the island has been seeing a spike in burials since March, with the burials going from once per week to burying about two dozen bodies per day for five days a week, according to Jason Kersten, the spokesman for the New York City Department of Corrections.

In fact, the New York Post reported 40 wooden boxes were buried on the island Thursday alone, with the burials no longer being performed by inmates but, by private contractors wearing protective suits.
It is important to acknowledge that not all the unclaimed bodies died from the coronavirus, yet since March, as COVIFD-19 was spreading throughout America, the numbers skyrocketed.
The correlation obvious.
(PLEASE HELP SUPPORT ANP: With Independent Media being censored on almost every internet platform, reader donations are what keeps websites like ANP up and running. Your donations are greatly appreciated. Thank you, Stefan & Susan.)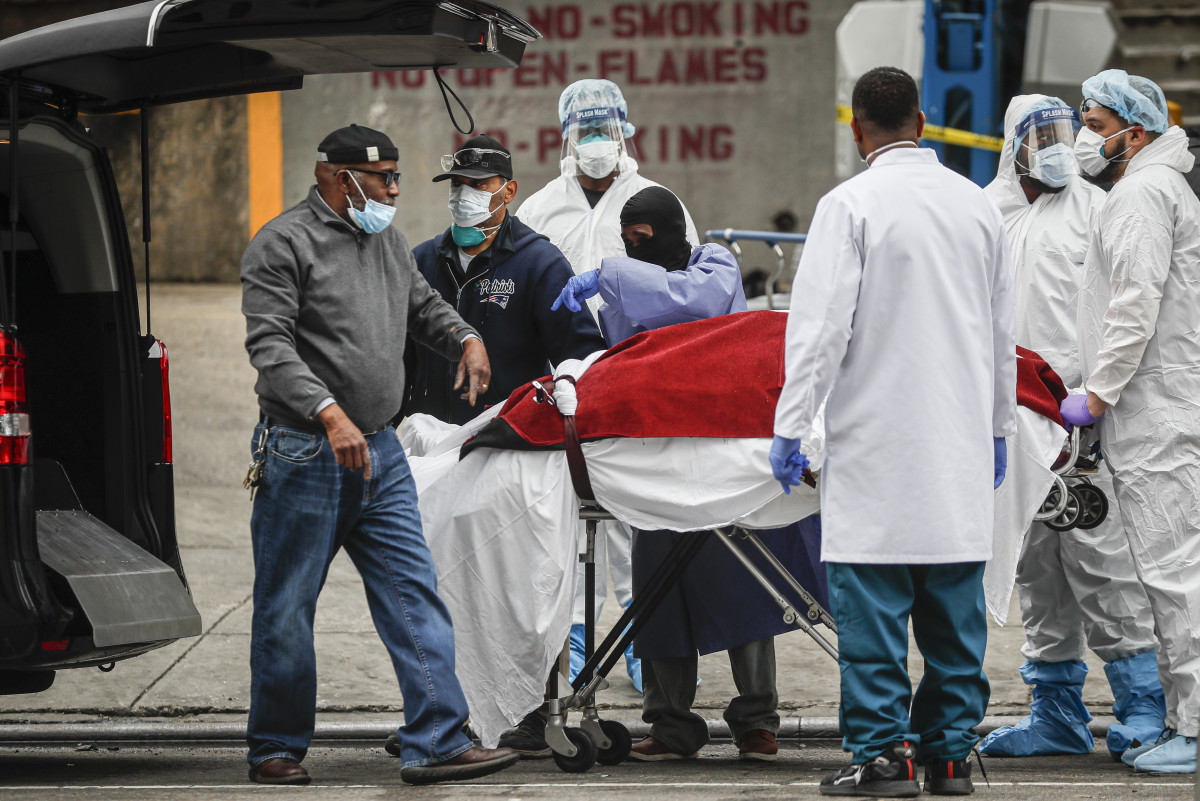 Ask Yourself These 5 Questions Before Choosing a Knife

HOSPITALS RUNNING OUT OF BODY BAGS
Jump over to Michigan: Another hard-hit area is Detroit,  Michigan, where hospital workers describe how they are running out of stretchers and body bags, and on some days out of oxygen tanks,  while people are dying in the hallways.