Heavy Truck Orders, After Plunging for a Year, Collapse. Medium Duty & Heavy Trucks Sales Collapse Too
Heavy Truck Orders, After Plunging for a Year, Collapse. Medium Duty & Heavy Trucks Sales Collapse Too
"Only good news here is that the number was still positive despite the high number of expected cancellations."
Orders for heavy trucks in March collapsed by 52% from the already dreadfully low levels a year ago to 7,400 trucks, the lowest since 2010, driven by cancellations of existing orders "due to the sharp and sudden downturn in economic conditions," according to preliminary estimates by FTR Transportation Intelligence. And so COVID-19 spirals through the economy: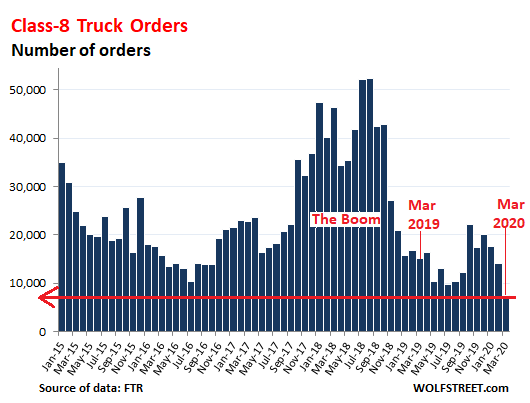 "It is expected that most fleets will pause their replacement cycles due to the crisis," said FTR vice president commercial vehicles Don Ake. "Large fleets that have immediate needs and the financial resources will continue to place modest orders. Additionally, smaller fleets may tap into the used truck market for their short-term needs to reduce the financial risk."
"The second quarter will be tough on the Class 8 market, and the third quarter is still highly uncertain," Ake said.
"The only good news here is that the number was still positive despite the high number of expected cancellations," Ake said.
But the plunge in truck orders started 17 months ago, in late 2018, following a historic boom. This chart shows the change in orders in percentage terms, compared to the same month a year earlier. As you can see, COVID-19 hit just as fleets had started to increase their orders a tiny wee bit: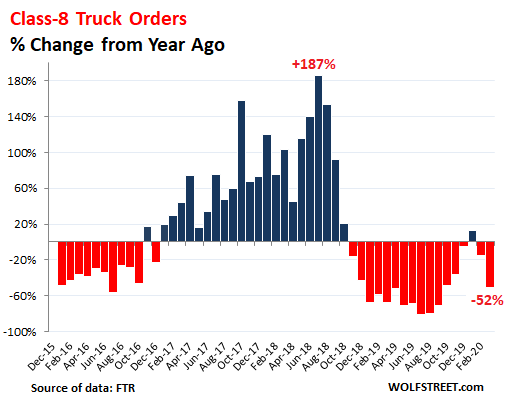 The historic boom in orders from late 2017 through the summer of 2018 was triggered as fleets responded to extraordinary demand for transportation services caused by companies wanting to front-run potential tariffs. By late 2018, the whole shebang came unglued, and fleets slashed their orders. Now comes COVID-19.
Over the past 12 months, Class-8 orders have dropped to 170,000 trucks in total, down 66% from the 12-month total at the peak through October 2018.
Starting last summer, truck makers implemented layoffs, with Navistar kicking off the trend. Kenworth and Freightliner announced layoffs in October. Mack Trucks got hit by a 12-day strike that idled 3,500 workers late last year, but in January, it announced layoffs due to the collapse in orders. Volvo Trucks announced layoffs in November.