US Reports Largest Jump In New Cases, Deaths As "Apocalyptic" Surge Rocks Hospitals In New York, New Orleans: Live Updates
US Reports Largest Jump In New Cases, Deaths As "Apocalyptic" Surge Rocks Hospitals In New York, New Orleans: Live Updates from Zero Hedge
Summary:
Jerusalem's Church of the Holy Sepulchre closed
New York City hospitals report "apocalyptic" surge in cases
Elmhurst Hospital in Queens is overwhelmed with new cases
More than 500k volunteers sign up to help the NHS in Britain
New Orleans hosts major outbreak
Inmate in Washington DC tests positive
India passes $22.6 billion bailout package
Putin shuts down Moscow, delays vote on constitutional measures
Wednesday was deadliest yet in US
Mnuchin says he speaks with Powell up to '30 times a day'
*  *  *
Update (0930ET): In the US, stocks have gone vertical at the open. Meanwhile, comments from President Xi are just hitting the tape.
CHINA'S XI JINPING SAYS CORONAVIRUS OUTBREAK HAS HIT GLOBAL PRODUCTION, DEMAND – STATE MEDIA
XI CALLS FOR JOINT EFFORTS TO STABILIZE SUPPLY CHAIN:XINHUA
Meanwhile, in Italy, the hard-hit Lombardy region reported a jump in cases.
On CNBC, during an interview with an almost overly sympathetic Jim Cramer, Treasury Secretary Steven Mnuchin said that not a day goes by where he doesn't speak with Fed Chairman Jerome Powell. Mnuchin says he's approved "every single one of" the Fed's requests for new lending facilities. On new jobless claims report, he says "these numbers right now are not relevant".
*  *  *
President Trump's hurried demands to get the nation "back to work" before Easter probably couldn't come at a worse time. Across the US, but mainly in a handful of 'hot spots', most notably New York City and the surrounding area, the number of confirmed cases and deaths attributed to COVID-19 is climbing at an alarming rate.
According to John Hopkins data, Wednesday was the deadliest day yet for the US with 233 fatalities reported, taking the US to 65,273 cases and 938 deaths. In New York and California, the number of confirmed cases is doubling every few days.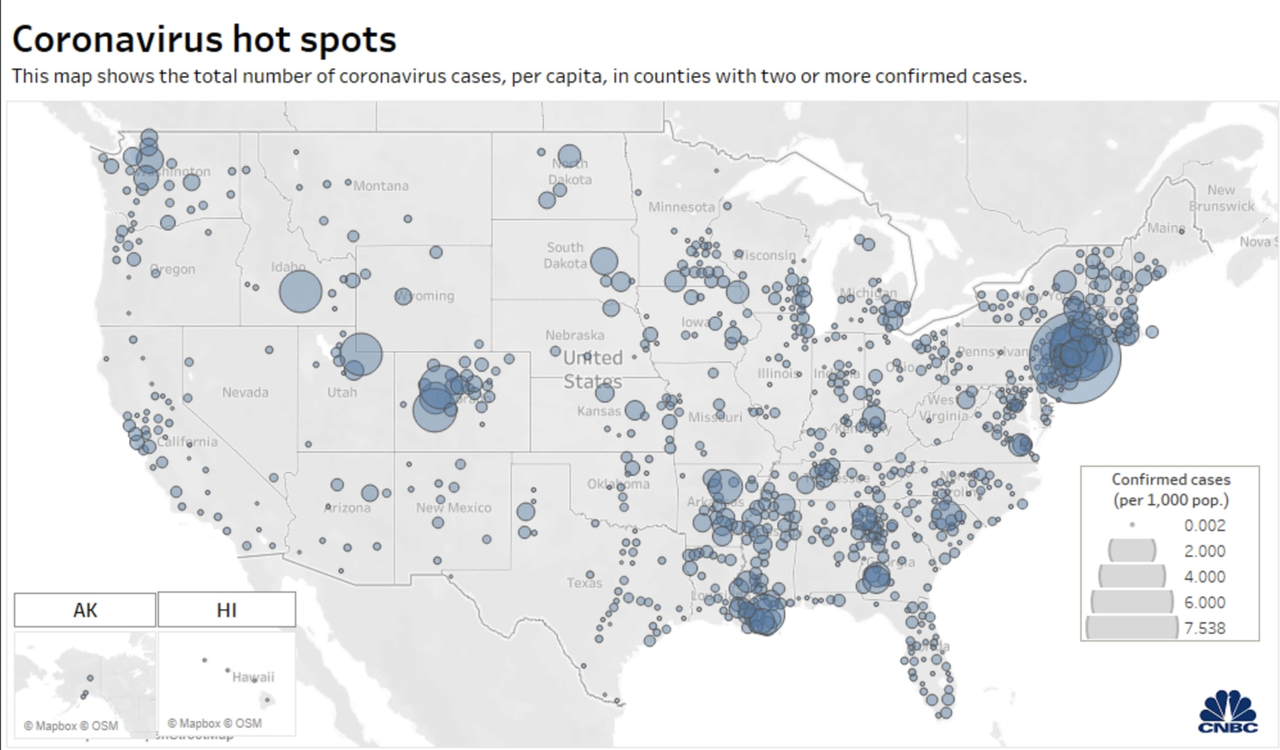 As Russia reports record growth for a second day, President Vladimir Putin has ordered the country's capital and largest city, Moscow, to close up all restaurants, bars and "non-essential" shops. In an online post, Moscow mayor Sergei Sobyanin ordered the closure of government offices and religious sites – which he urged Muscovites not to visit – and asked all other Russians not to visit the capital during a planned 'nationwide holiday' set to last for all of next week. The Kremlin has also halted all international air traffic, both for airlines and charter flights, excluding repatriation flights bringing Russian citizens back into the country.