"The Gold Market Is Breaking Down": Gold Spreads Explode As LBMA Warns Of Liquidity Problems
"The Gold Market Is Breaking Down": Gold Spreads Explode As LBMA Warns Of Liquidity Problems from Zero Hedge
Last night, when observing the unprecedented "gold run" on precious metals dealers which has left all gold vendors with little to no physical gold, we said that "the price of physical gold has decoupled from paper gold" as a result of paper gold liquidations as leveraged funds scramble to cover margin calls using safe assets…
… resulting in an arbitrage that physical gold buyers, i.e., those who don't have faith in gold ETFs such as the GDX or simply prefer to have possession of the metal, find especially delightful as it allows them to buy physical gold at lower prices than they would ordinarily have access to.
Precious Metals Aren't the Only Markets Getting Crushed In The Overnight
However, we also noted that whereas in the past such conditions were self-correcting, this time it is not only a record surge in demand for physical gold but also a near shut down in supply as the most productive gold refiners, those located in the southern Swiss town of Ticina, namely Valcambi, Pamp and Argor-Heraeus, now appear to be offline indefinitely.
The result is that the spot/futures price divergence discussed last night and further described here,  has exploded…
… and on Tuesday morning the divergence that was barely noticeable late Monday has blown out to unprecedented level, with gold futures decoupling and trading far above spot prices.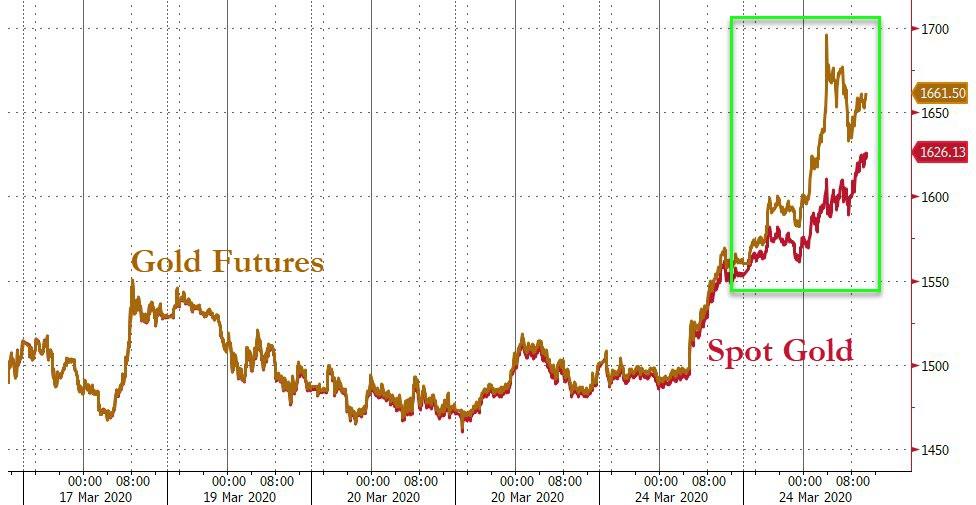 The near record spread is the widest seen in four years.
As Kitko notes, just before noon EDT, one price vendor was showing spot metal was trading at $1,612.10 an ounce while at the same time showing the Comex April futures were at $1,654.10 an ounce – a spread of $42 an ounce. It was much wider earlier in the day, when as Kitco adds, "nearby futures were more expensive than deferred, a sign of strong demand in any commodity market."
"I've never seen that before," said one gold trader who has been in the market for 30-plus years. Some contacts reached by Kitco suggested the discrepancy is an evolving story that is still unfolding, with traders trying to figure out what's happening.
How Will Precious Metals Dealers Handle These Low Levels?
Earlier in the day, the London Bullion Market Association, the world's most important authority for physical gold and its transfers, issued this stunning statement to Kitco: