Gold Seeker Report: This Week in Mining Issue #5
Gold Seeker Report: This Week in Mining Issue #5 By: Chris Marchese, Chief Mining Analyst at GoldSeek.com
Week Ended March-21, 2020
$AUY $PAAS $SILV $SVM $NEE.V $NGD $MUX $KL $GUY.TO $GCM.TO $EXK $ELY.V $GOLD $ALO $AGI
Alamos Gold: Announced it will repurchase, from a third party, an existing 3% NSR royalty on its Island Gold project for cash consideration of C$75m (US$54m). The royalty is within four patented claims that compromise the majority of currently defined mineral reserves and resources. This will immediately reduce operating costs and in turn increased operating cash flow. This is a smart move given the exploration upside potential at Island Gold as well as its future potential to increase average annual output.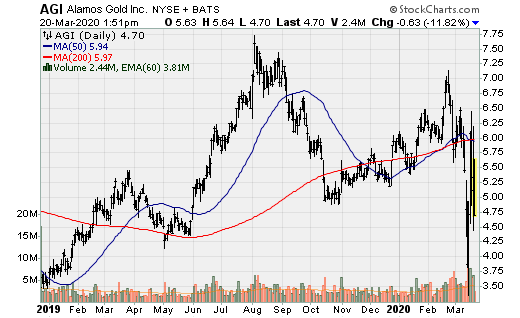 Alio Gold: The company announced a material improvement at its Florida Canyon mine and reported Q4 and FY 2019 results. Full year production was 78.84k oz. Au with cash costs of $1,185/oz. The company also announced the sale of the San Francisco mine to Magna gold on March 6th 2020. Q4 results showed significantly improved operating metrics, achieving record processing rates and the lowest total operating cost (per ton) since acquiring the asset. 2020 production guidance is between 60-70k oz. Au at cash costs between $975-$1,075/oz. All-in sustaining costs (AISC) remain very elevated at $1,483/oz. in Q4, and $1,349/oz. for the full year 2019. The company has a cash position of $16.6m, so if either the corona virus causes a temporary shutdown and/or the price of gold drops below $1,350/oz. or so, the company may very well have to dilute shareholders at a high cost of equity.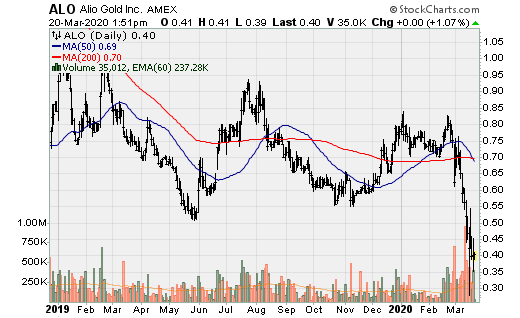 Barrick Gold: The life of the Tier-I Veladero gold mine in Argentina has been extended by at least 10-years following a comprehensive review of its strategy and business plan. The next step is Veladero's transformation is to connect the mine to cleaner, cheaper power from the grid in neighboring Chile.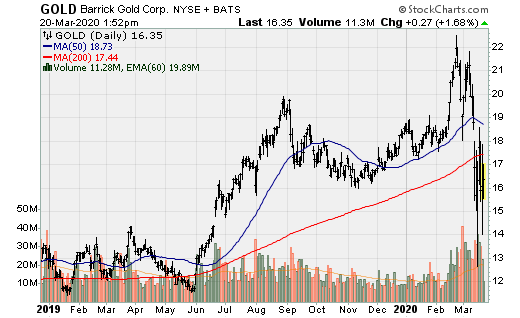 Ely Gold Royalties: On March 13th, 2020, Ely Gold closed the purchase of a 15% NPI (net profit interest) from Liberty Gold. It subsequently announced the purchase of and additional Carlin Trend Royalty. In exchange for $500k, Ely Gold will acquire a 3.5% NPI on the Ren property located in Elko, Nevada. The Ren property is part of the joint venture between Barrick Gold and Newmont Corp forming Nevada Gold Mines.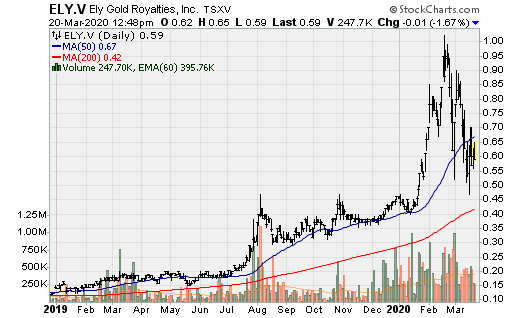 Endeavour Silver: Things are going from bad to worse for the higher-cost silver producer. In 2019, the company announced its El Cubo mine (which was its most profitable operation for a couple years) had become depletes of mineral reserves and it would be winding down operations until the company could drill out additional resources. This lowered output and caused an increase in companywide all-in sustaining costs (AISC). Further, due to heavy selling in silver and the company's all-in cost structure being well above spot prices, should this continue for a prolonged period of time, it will be a cash drain. Beyond that, this week, the company completed the updated pre-feasibility study (PFS) at its Terronera silver project. Based on the preliminary economic assessment (PEA) and initial PFS, in addition to encouraging drill results after the study was completed, Terronera was to be its cornerstone asset, and by a substantial margin. Instead of publishing a summary of the PFS, Endeavour is now reviewing the study internally as it is less robust relative to the previous PFS. This could be resolved and be every bit at economic as originally thought but this in nonetheless unsettling news for the time being.