'Octagon', 'Freejack' & 'Zodiac' Are Now In Play!
'Octagon', 'Freejack' & 'Zodiac' Are Now In Play! By Stefan Stanford – All News Pipeline
Newsweek Story Confirms The US Military Is Preparing For Widespread Chaos & Violence, Food Shortages & Martial Law In America
– 'Above Top Secret' Plans Now In Effect To Ensure Continuity Of Government
With the state of California now under martial law after Governor Gavin Newsom issued a 'stay-at-home' lockdown order for the state's 40 million residents and pressure upon President Trump coming from many sides to lock America down in an attempt to stop the spread of death across the nation, this new story out at Newsweek confirms this Right Wing Tribune story; the US Department of Defense has given stand-by orders to ensure 'continuity of government' in America for the first time in recent US history.
And with both President Donald Trump and VP Mike Pence potentially exposed to the killer virus that's weaving a pathway of death and economic ruin across the planet after they had both met with a Brazilian official who had tested positive for COVID-19 one of the reasons why the US DOD's 'COG program' is now in full effect, we'll explore within this ANP story the latest signs of trouble ahead with even a potential US military commander becoming America's 'Commander in Chief' in our near future should worst case scenarios unfold. But first, from this story over at Intel News before we continue.:
For the first time in the modern history of the United States, the Department of Defense has been given standby orders to ensure the "continuity of government", in response to the COVID-19 pandemic. These extraordinary measures, which include evacuating White House officials to remote quarantined locations, and devolving the nation's leadership to "second-tier officials", were originally meant for the aftermath of a nuclear war.
However, according to Newsweek, "Above-Top Secret" contingency plans are now in place, in case the nation's Constitutional power successors are incapacitated by the pandemic. Standby orders have been issued for a series of plans under the US Northern Command (NORTHCOM), which was created in response to the 9/11 attacks as a homeland defense military authority.
These operations are codenamed OCTAGON, FREEJACK and ZODIAC, said Newsweek, and include CONPLAN 3400 (homeland defense if the US itself is the battlefield), CONPLAN 3500 (defending civil authorities in an emergency), and CONPLAN 3600 (defending the National Capital Region from an attack). Newsweek added that the Defense Secretary, Mark T. Esper, has authorized NORTHCOM to "prepare to deploy" in support of these "potential extraordinary missions". These include "the possibility of some form of martial law", where military commanders would be given executive powers across the US until a new civilian leadership would emerge.
An added complication to these plans is that the military itself is vulnerable to the coronavirus pandemic, which makes for "extraordinary circumstances", said Newsweek. In recognition of this vulnerability, the Department of Defense has instituted unprecedented restrictions for off-base activities of military personnel. Having first banned overseas travel, the Pentagon is now keeping all uniformed personnel on or nearby military bases across the country and the world. Newsweek added that several other national security agencies are following the Pentagon's contingency plans, and that continuity personnel at the White House are "readying [for an] evacuation".
So with the Newsweek story also confirming much we have been hearing, that preparations are now taking place at the very highest levels of the US government for a health disaster in America of historical and unprecedented proportions, we hope that ANP readers are prepared to ride out the coming storm with the very real potential of state lockdowns all across the board and a 'nationwide lockdown' not out of the question.
(ANP NEEDS YOUR HELP! Due to unforseen medical expenses following Susan Duclos' heart attacks and hospitalization, All News Pipeline will need some financial help in the days ahead. So if you like stories like this, please consider donating to ANP to help keep us in this 'Info-war' for America at a time of systematic censorship and widespread corruption.)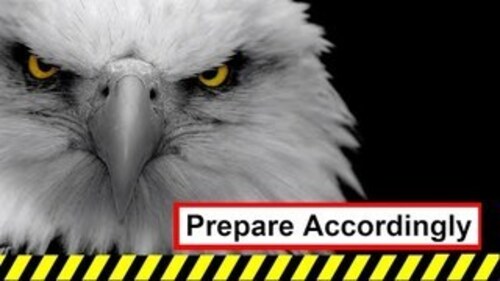 Before we continue, let's go ahead and take an extended look at
this important story over at Newsweek
which both the Right Wing Tribune and Intel News had used as the source for their stories. Warning us within their story of
'top secret contigency plans'
that were already in place, their story also brought up these
'underground laws'
that would ensure
'continuity of government'
in America but lead us to ask, what
'government'
will they be continuing, the globalist-government long pushed by Democrats for America or the
'America first'
government that was being slowly ushered in by President Trump?
With the Newsweek story also warning us that we're entering new territory that we've never been in before and the very real potential that all of this to lead to martial law in America due to widespread violence over nationwide food shortages, with all of the hatred expressed towards President Trump by the mainstream media and Democrats over the past 3 years and impeachment and the 'Russian collusion hoax' having failed, might COVID-19 be 'the globalists plan C'? From this Newsweek story.