Preppers – Rejoice In Your "Paranoia"
Preppers – Rejoice In Your "Paranoia" by Rory for The Daily Coin
Remember when your family rolled their eyes because you began developing a "deep pantry"? Remember when they said you were crazy for ordering a "survival bucket" from the prepper store? Remember when they said you should sell some of your weapons? Remember when they said they would come to your house if something went wrong? Remember, remember, remember…then tell them you love them and will help them to avoid this in the future by teaching them what you did wrong along the way.
Here's an image, as if you haven't already seen this up-close-and-personal, from All News Pipeline reader. We have seen this around the country and now President Trump is telling people to stop hoarding!! – WRONG ANSWER – It's not "hoarding" it's being prudent and caring for those we love.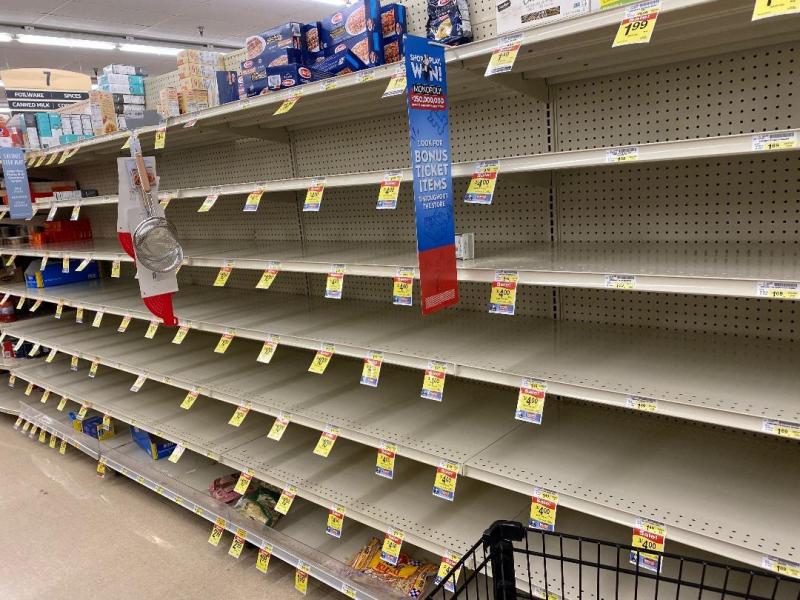 (ANP Reader Image – Evanston, IL, March 2020)
We should all be more self sufficient and far less dependent on government when something goes wrong. If more people kept one or two months of dry – nonperishable items – on hand, several gallons of water per person in the house, fully stocked freezer and learned to use these items in rotation properly our world would be a different place. People would actually have an appreciation for their income, for savings and would begin questioning the currency in their wallet. Oh yeah, they would naturally begin using hard currency instead of some illusion in the form of plastic.  Reality, as it is right now, would smack them squarely in the face.
Beginning at 31:10 mark in the video below Tucker Carlson speaks to the time when all Americans were so-called "preppers". No, they weren't called "preppers" or "hoarders" they were simply called patriotic. It was the right thing to do. Individuals taking care of themselves, producing for themselves and being proud of the fact they were self reliant was the order of the day. If you weren't a patriotic prepper, you were the outcast, not the other way round as we see today.
The wake up call our world is experiencing right now is beautiful. If a mere 1 to 3% of the people world wide will awaken from the Wuhan Chinese coronavirus and come to realize that nationalism / populism is extremely important our world will look a lot different in a couple of months.
You won't see preppers standing in the line below or any line at any of the stores around the country. Why? Because it's the way they live. Preppers don't have to rush out at the last minute and pray what they are seeking is available or the store manager limited the number of items people could purchase or wait for the government to show up and feed them some crappy, worthless garbage they have labeled as food. No, preppers are sitting at home reading The Daily Coin or any number of other websites and watching the show.
To all our friends and family – we love you, but, please, remember we're not paranoid just prudent.
When you didn't prep because prepping is for the paranoid. pic.twitter.com/mO9SaVG5pq

— Jameson Lopp (@lopp) March 16, 2020
-->