Gold Seeker Report: This Week in Mining Issue #3
Gold Seeker Report: This Week in Mining Issue #3 by Chris Marchese Chief Mining Analyst, GoldSeek & SilverSeek
Aurcana: Increased the previously announced non-brokered private placement from $4m to $5.76m and completed the second tranche. This will go toward underground development (and in turn, reducing cap-ex) to bring its principle asset (Revenue-Virginius) into production and ideally, the remaining capital investment will be funded via debt or at least in large part. While it is difficult to generate positive operating cash flow in the current silver price environment, due to the higher grade nature of the deposit and in turn AISC/AgEq oz. is sub-$10.75/oz. (or $8/oz. Ag), due in part to a resource grade >1k g/t, this shouldn't be an issue. The asset currently has a relatively small resource base of 21.2m oz. (2P), 29.9m (M&I inclusive of 2P), and an additional 13.2m oz. (Inferred). This asset, while small, will also derive the vast majority of revenue from precious metals: silver (71%) and gold (9%).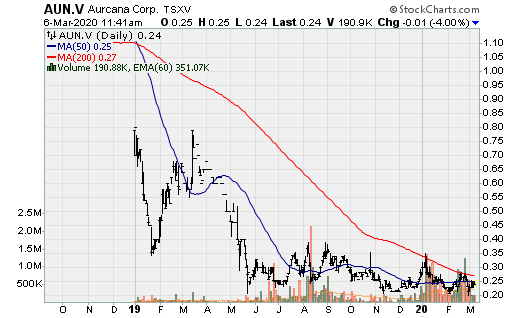 Bear Creek Mining: The company announced some very exciting news, that being it is nearing a production decision at its large Corani silver-lead-zinc project in Peru which, in all likelihood, will see a construction start before year end. The 2019 Corani feasibility study (FS) illustrated improved economics with the NPV up +31% and IRR up +52% with a 33% reduction in payback period, increased average annual output, and lower all-in sustaining costs (AISC) relative to the 2017 FS. LOM AISC has fallen 9% to $4.55/oz. and average annual silver production (LOM) has increased 20% from 8m oz. annually to 9.6m oz. annually (as a result of increased throughput – but with similar initial cap-ex).
Bear Creek Mining has engaged BNP Paribas and Societe Generale to arrange a US$400m senior secured credit facility. While this is far short of the $550m required (although the company will want to have closer to $600-650m in funding for working capital requirements, cash burn prior to production (as it will be a 3-year construction period), and flexibility to engage in additional exploration, especially if the silver price follows gold (which is very likely). In my opinion, it should look to raise the $180-$200m+ gap by selling a relatively small silver stream to the likes of Wheaton Precious Metals (i.e. 7.50%-12.50% silver stream) without hampering the economics as the on-going per ounce purchase price should be around, if not higher, than AISC. This, or a combination of stream and equity is highly preferable to avoid massive dilution as the cost of equity is very high currently just resort solely to raising the remaining required capital via equity.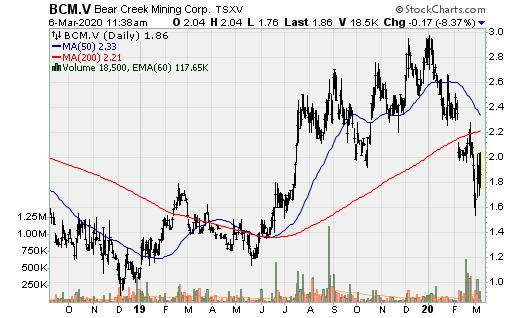 Caldas: The company completed a reverse takeover (RTO) transaction with Caldas Finance Corp., which is essentially a spin-out of the Marmato asset by Gran Colombia which currently holds a 72% interest. In 2019, Gran Colombia released an impressive PEA to develop an underground mine at Marmato. Further, it recently announced that recent drilling was successful in extending the recently discovered New Zone (NZ) down-plunge in excess of 200m. The down-plunge extension was intersected at 544m elevation and has continuous high-grade mineralization down to an elevation of 460m. The zone remains open at depth. Assay results from this hole include 87.15m @ 3.9 g/t Au and 1.7 g/t Ag (including 16.43m @ 7.2 g/t Au and 2.5 g/t Ag) and 18.1m @ 6.3 g/t Au and 2.6 g/t Ag. While early stage, this bodes well for expanding mineralization outside of the Main Zone. The company is fast tracking development with a pre-feasibility (PFS) expected 1H 2021.