China Now Openly Fabricating Numbers: Beijing Lowers Coronavirus Deaths By 108 Due To "Double Counting"
China Now Openly Fabricating Numbers: Beijing Lowers Coronavirus Deaths By 108 Due To "Double Counting" from Zero Hedge
Yesterday, when China shockingly reported a huge jump in new Coronavirus infections due to a "change in definition" of how it counted confirmed cases, resulting in a surge of nearly 15,000 new infections in Hubei alone, it made a mistake: it also reported a surge in new deaths, which more than doubled from under 100 to around 250, and which represent a state of existence (traditionally the final one) that is entirely definition independent.
As we pointed out at the time, while China "can now claim it wants to be more transparent (which is odd for a nation that is still refusing to admit the US CDC on the ground) and wants a more comprehensive definition of "infection" because it is suddenly so concerned about all those people it ordered to go back to work on Monday, it somehow also changed the definition of "death", because at the same time as the explosion in new cases, which clearly indicates that the pandemic is now clearly out of control, the number of reported deaths in Hubei alone spiked by 242 to 1,310."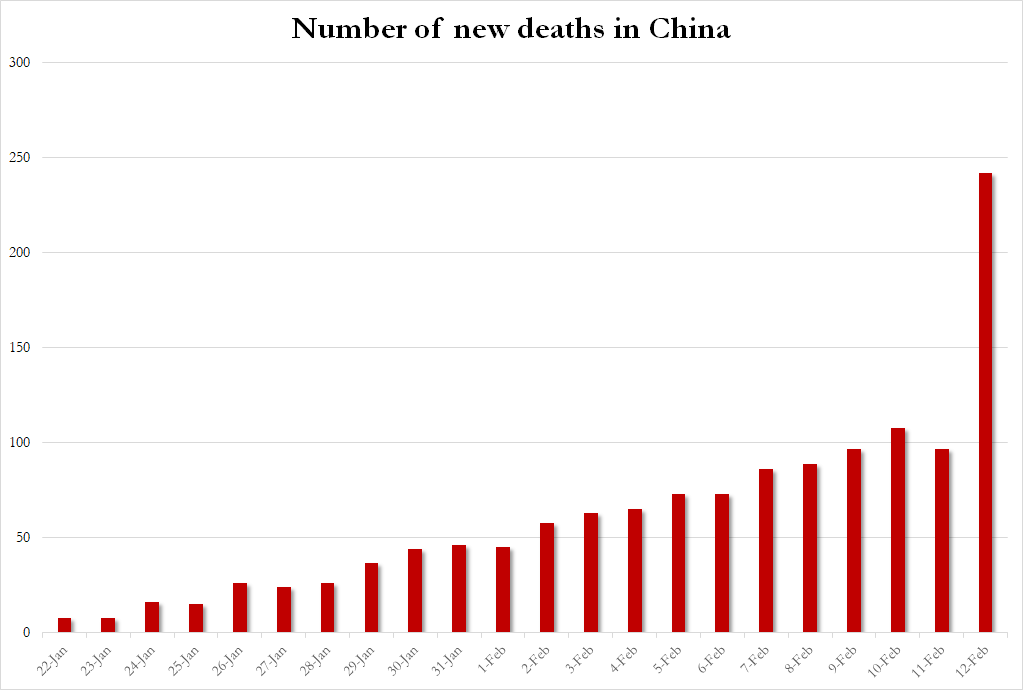 One day later China appears to have realized just how flagrant this "mistake" – which exposed the lie which Chinese officials had used until now to avoid a panic, and reset the infection count to a sharply higher number – was, because even as Hubei reported an additional 4,823 cases as of Thursday (and the Chinese National Health Commission said this number was up 5,090 for all of China), there was some major confusion about what the actual number of deaths was.
Here's why.
In its official daily update on the coronavirus epidemic on Thursday, Feb 13 – the day of the great surge in infections and deaths – the NHC reported that across all of China, there was an increase of 242 death cases in China, of which 216 in Wuhan to 1,367 (link to original page here)….
… which is bizarre, because one day later, in its latest update from Friday, Feb 14, the NHC said that while the number of deaths – which as of Thursday recall were 1,367 (see above) – increased by 121, the total number of declared deaths across China was just 1,380 (link to original page here).