Germany Confirms 3 More Coronavirus Cases; Human-To-Human Transmission Suspected
Germany Confirms 3 More Coronavirus Cases; Human-To-Human Transmission Suspected from Zero Hedge
Update (1515ET): Virus-related newsflow slowed Tuesday afternoon, though there have been one or two interesting developments.
SCMP said US HHS Secretary Alex Azar (don't get him confused with Labor Secretary Alex Acosta, the one who cut Jeffrey Epstein a sweetheart deal) said Tuesday that he hoped the Chinese government "will take us up" on an offer of aid.
The Centers for Disease Control and Prevention earlier said it was seeking information from China about the transmission rates for the virus, and the US government asked Beijing if the CDC could send a team of experts after President Trump offered China unfettered access to America's top-notch "experts."
We are in very close communication with China concerning the virus. Very few cases reported in USA, but strongly on watch. We have offered China and President Xi any help that is necessary. Our experts are extraordinary!

— Donald J. Trump (@realDonaldTrump) January 27, 2020
Azar said that he had personally extended "the offer…which we do hope that the Chinese government will take us up on that CDC experts are standing by ready, willing, able to go immediately to China either on a bilateral basis or under the auspices of the World Health Organisation."
Reports earlier claimed that Beijing had rejected American help. While it's not entirely clear what's going on, it's worth noting that the US arrested three suspected Chinese spies on Tuesday, while China accused the American Navy of more "deliberate provocations" in the South China Sea," per SCMP.
In other news, a few new cases of the virus have been confirmed. Three more coronavirus cases have been confirmed in the southern German state of Bavaria. Notably, it's believed that all three cases contracted the virus from the first case discovered in Germany, more evidence of human-to-human transmission outside China. Canada confirmed another case in Vancouver after an earlier cases was treated in Toronto.
China kept evidence of human to human transmission under wraps until last week, allowing the virus to spread unfettered for weeks before doing anything to confront it.
Now, the CDC is asking for more information about how the virus spreads, but Beijing is being somewhat less than "transparent."
"The Chinese have reported evidence of transmission in the asymptomatic phase, based on data that they have reviewed. The CDC has not been given an opportunity to review that data," Redfield said. "What we say is that we have not been able to confirm by data the impact of transmission during the asymptomatic phase."
The case count hasn't budged in a few hours, though we imagine the new cases in Germany and Canada will soon be included.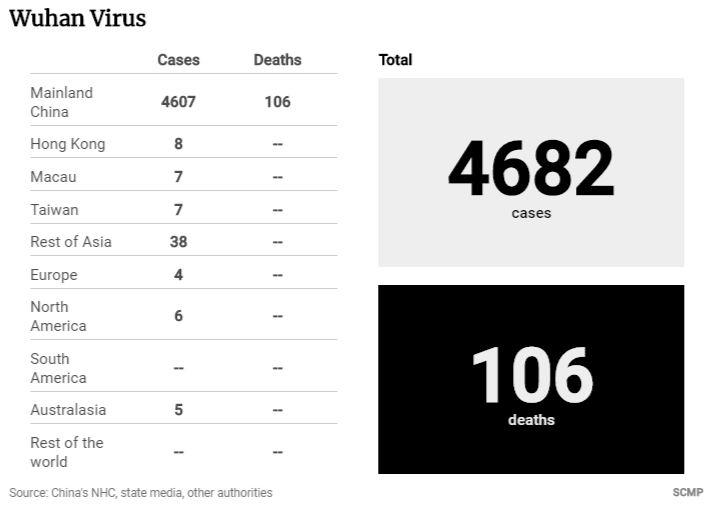 -->