Gold Market Update
Gold Market Update by Clive Maund via Gold Seek
Gold's post breakout reaction back from its early September peak has evolved into a steady downtrend as we can see on its 6-month chart below. The approach of the rising 200-day moving average below suggests that this reactive downtrend will have run its course before much longer leading to a second upleg. However, gold's COTs have shown no improvement as this downtrend has unfolded, which is a sign that the downtrend has further to run. The now orderly downtrend has one distinct advantage which is that bulls simply have to wait either for a breakout from it or the development of a basing pattern. One indication that the downtrend is a correction and not the start of something more sinister is the positive divergence of the Accumulation line compared to the price.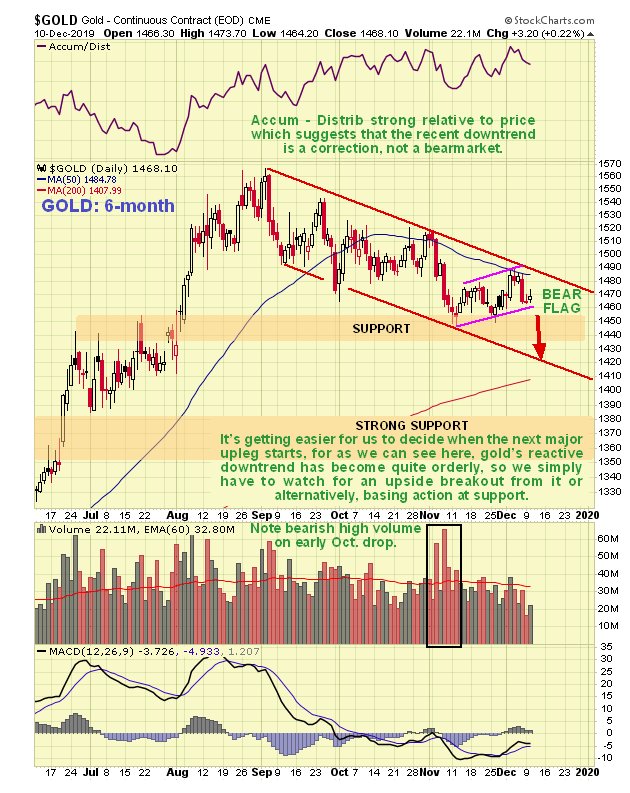 Gold's COTs continue to sound a note of caution, with Commercials holding big short positions and the Large Specs not giving up and reducing their long positions. Normally this means that the decline will continue. Where is it likely to stop? – to determine that we will now look at a long-term 10-year chart.
Click on chart to popup a larger, clearer version.
On the 10-year chart we can see gold's impressive Summer breakout from a giant complex Head-and-Shoulders bottom which also had characteristics of a Saucer base. Not long after it broke out we noted that it would be quite normal for it to react back to test support at the breakout point before the new bullmarket gains traction, and that is what it now appears to be doing. As the reaction back unfolds we can expect all the tired old negative attitudes towards gold to re-emerge – gold is a •"barbarous relic", don't fight the Fed, the stockmarket's going to go up forever, etc. etc. and that is already starting to happen and these negative pronouncements will be the cover behind which we can build positions across the sector once gold drops back into support in the $1360 – $1400 zone near to the top of the giant base pattern, which as we noted above, the COTs suggest is likely.
-->